TaylorMade - r7 Limited
---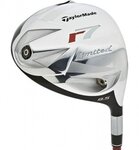 r7 Limited
-
TaylorMade
The r7 Limited also incorporates a new, modern and beautiful clubhead shape. Reminiscent of a triangle, with soft corners for a pleasing appearance, the head is faster-looking than any r7 driver head before it, and the address footprint is exceptionally large, giving it a substantial and confidence-inspiring appearance while deeper, lower CG (center of gravity) promotes better launch conditions for even more yardage.

Add To My Bag
Reviews/Comments
---





bennythoms599
- 8/19/10
I love this driver. I got fit for an R9 and didn't like it, tried the r7 Limited on a whim and love it!





ottstevek
- 2/8/10
My first round with this driver last fall I only missed one fairway, enough said.





drp2002
- 12/27/09
An amazing driver with a terrific Matrix shaft. The straightest and longest driver I have ever had the pleasure of using.
11.5 degrees suits me just fine.





tvanmiddendorp
- 10/26/14





chingchow1
- 12/7/13





spinksie
- 11/2/13





caddie doug
- 9/14/13





Rich W.
- 6/5/13
Golfer Stats
---
Number of Users: 195
Average Handicap: 12.9
Overall:





Value:





Look:





Performance: