TaylorMade - Burner SuperFast
---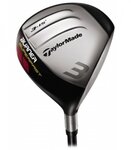 Burner SuperFast
-
TaylorMade
The TaylorMade Burner Super Fast Fairway offers more speed and power than ever before. The improved SuperFast Technology package, which is a lightweight shaft that is extra long and large clubhead, promotes more swing speed, more ball speed and more distance.

Add To My Bag
Reviews/Comments
---





Phil Daddy
- 8/24/13
Nice club. Having a little trouble getting use to it. Not the clubs fault though.





dodger4865
- 11/23/12
Easy to get airborn and consistant distance.





peljea
- 6/24/11
Très efficace et précis





charlesdoo
- 5/28/11
Easiest fairway wood I've ever hit. No effort getting ball airborn. Ball flight would baloon if I hit into any type of a wind though.





trikkineon
- 10/14/10
Had to remove the stock shaft and replace it with a UST V2 55R, now it is a good driver





sully51
- 1/26/17





cmcgary
- 12/27/15





ayrutd
- 9/29/15
Golfer Stats
---
Number of Users: 726
Average Handicap: 14.5
Overall:





Value:





Look:





Performance: