Callaway - HEX Chrome+
---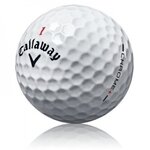 HEX Chrome+
-
Callaway
Advertised as Callaway's fastest tour-specific ball, the Hex Chrome+ features inner and outer mantles designed to produce more ball-speed and lower spin with the driver.
Available in white and optical yellow.

Add To My Bag
Reviews/Comments
---





jfurr
- 10/12/13
A great ball -- Urethane covered 3 pc for 30 bucks ?! It's like a cross between a tour ball ala ProV1x and distance ball. Feels great on full swing, pretty good spin action, and soft feel an chips and putts.





DaveS48
- 5/18/17





dagaturner
- 8/10/16





sbeal58289
- 8/3/15





Jforry
- 5/8/15





Casino Boss
- 3/18/15





GTBooker
- 9/19/14





DJH 3885
- 6/7/14
Golfer Stats
---
Number of Users: 40
Average Handicap: 12.8
Overall:





Value:





Look:





Performance: