MaxFli - Revolution Black Dot
---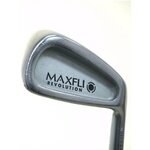 Revolution Black Dot
-
MaxFli
Internal nickel material offers responsive, soft feel and shot-shaping control. External chrome finish provides increased durability and consistent iron performance throughout the set. Combination of internal nickel and external chrome dampens vibration at impact. Cavity-back design offers the forgiveness of perimeter weighting with the feel of a blade.

Add To My Bag
Reviews/Comments
---





J Wow
- 6/21/11
Been playing these for 12 years. Still one of the best looking irons with a nice soft feel.
(had to recreate the listing since they edited the original to the new beginner sets)
Maxfli was great before Taylormade bought them out.





Bennett23
- 11/10/12





regasaz1
- 6/11/12





dsparob
- 4/2/12





ProHunter
- 8/4/11





mwarwick99
- 8/2/11
Golfer Stats
---
Number of Users: 4
Average Handicap: 9.8

Overall:





Value:





Look:





Performance: