Odyssey - White Hot XG Sabertooth
---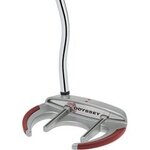 White Hot XG Sabertooth
-
Odyssey
This putter provides a high MOI, which reduces twisting during the stroke for more accuracy. Its Dual Fangs position more weight to the outermost part of the head to keep the stroke online. The Aiming Channels provide excellent alignment. The XG Series features a multi-layer insert with an elastomer core that is very soft and resilient, along with a thin outer layer is firmer for greater responsiveness.

Add To My Bag
Reviews/Comments
---





MySkybuddy
- 6/24/11
Good sound feedback. Great for picking up balls. Easy to line up





craftylefty2
- 8/7/10
Excellent putter, true roll of the face





Al_F
- 2/7/10
Great performing and cool looking putter. Perfectly faced balanced. Good feel on short and long putts.





Dabull66
- 8/15/17





ftordeur
- 5/15/17





kuss1cox
- 12/17/16





alaw
- 6/22/16





Ojo69
- 12/28/15
Golfer Stats
---
Number of Users: 775
Average Handicap: 13.9
Overall:





Value:





Look:





Performance: