Senygma - GolfCard
---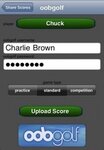 GolfCard
-
Senygma
A professional ALL-IN-ONE app for the casual and serious golfer. Includes scoring just like a real golf card, range finder* with satellite images**, and statistics with a calculated handicap index***. We understand that your primary goal is to improve your game, and have fun while you are out playing... not be distracted by the tools you use.

Add To My Bag
Reviews/Comments
---





AgusRdgz
- 7/23/10
Crap now that it does not uploads to oobgolf. This was the reason I picked this app over others... For now will not upgrade and use smartGOLFCARD+ for new courses





nhpace
- 7/20/10
Dropped oobgolf. Dumbest business decision in the history of life! Clearly a company that does not understand its customers needs.





singledigits
- 3/31/10
Great product, excellent accuracy. +/- 3 meters with my Droid (clear sky, no obstructions). Easy to mark courses with the GolfCard Mgr software.





ajbaird90
- 10/26/11





IMKMB
- 7/29/10





lazorbeam
- 9/16/09





Reslie
- 7/8/09
Golfer Stats
---
Number of Users: 3
Average Handicap: 11.9

Overall:





Value:





Look:





Performance: