SkyCaddie - SGX
---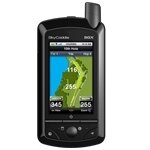 SGX
-
SkyCaddie
For the ultimate in convenience and reliability, the SkyCaddie SGX can store up to 30,000 pre-loaded, ground-verified course maps making it ready-to-play out of the box with Basic Green information. The SGX boasts a durable, sleek design with a large 3-inch, easy-to-read, transflective TFT-LCD screen that provides brilliant color images even in the brightest sunlight.

Add To My Bag
Reviews/Comments
---





JED10
- 9/5/16
Saves time and strokes-great piece of equipment, right up there with driver and putter, no it better than my putter!!!





Robgvx
- 12/14/15
I have an SGX, at least for now. However the little rubber boot on the toggle has torn. Sky Caddie just tell me that they do not offer that little 10 cent part and that THE ENTIRE DEVICE NEEDS TO BE REPLACED. I will use my SGX until the rain no doubt gets in and screws it up. Then I will scrap it, as Skycaddie suggest, and buy another brand. I wonder whether this review will be quickly removed...?





dkeichinger
- 5/3/14
Lent my SG5 out and it was dropped, breaking the screen. The SG5 was AWESOME!!! He replaced it with a new SGX. It is slower, smaller battery and not as user friendly. I've only tried sync'ing it twice and had troubles both times. The joystick is a pain in the butt. The screen is nice and big...that's one positive. I preview the target views on the SG5 over the SGX. I haven't noticed any features on the SGX that the SG5 did not have...has anyone else?





TMPTMP
- 4/25/14
overly complicated setup ; misrepresented capabilities ; first course I used it on had no map ; toggle switch does not function well. Very poorly designed process and grossly over hyped unit





smooth1911
- 4/2/14
No experience with other devices except a friend with smart phone app, which seems slow but is inexpensive. Bought a refurbished SGX & subscribed to the service. Worked well at first, but now tends to freeze up at times, skips holes & can't backtrack to correct hole images or score. Any suggestions ?





wfwp91
- 2/12/14
Priceless tool when you want to shoot your best scores. It helps to choose the right club and control distances.





fowlie33
- 12/31/13
my first sgx, I bought off a guy. it had a software issue and the warranty was up. skycaddie replaced it anyways, I was very impressed. this new one is a lot faster and is very accurate. overall it works great and by keeping the light turned down the battery lasts for 2 rounds.so far so good





louisfreeh
- 9/23/13
to be clear...I traded in my SG5 for the SGX Breeze, added upgrades 2 & 3. The value for all the above..near $450. I paid less than half that. With a Breeze special
Over all...A serious kick-ass machine. My brother,thinks using his tablet, with an app is the way to go.. We did a three hole for three hole comparison.
on the seventh hole we did side by side...
Short par 5. cross a river twice. His tab with app gave me 275 to the river...
me 3wd...into the river... that shouldn't happen..
we pulled out my Breeze. use the functions...Richard Noggins app give yds to the furthest point, AT the rivers bend, 275. Breeze gave us three (3) different yardages...
even when he moved to the area where we hit...App was off 50 friggin yds...
225 yds to the river...
over all...for price of his tablet $300 app free (but he paid 4$ for extras) accuracy not good. possible damage very high.
Breeze....kicked the apps ass. and gave me more accurate yds.
The lib couldn't figure out, SkyCaddie walks the courses...
app is satellite...Not military or civil engineering usage...just consumer Sat image with a very in-accurate ranger finder...
I will give this...certain locations on the course his app is pretty good...but, he has to take any shot over 150 with some chance of 20-50 yds off...
If your an App addict..have fun. Me, I've dropped my Breeze already. Rubber case did it's job.
I can say. I think SC has gone on the cheap with the new SkyCaddie case. You need the cover.
Golfer Stats
---
Number of Users: 8,325
Average Handicap: 13.4
Overall:





Value:





Look:





Performance: