Cleveland - CG15 DSG
---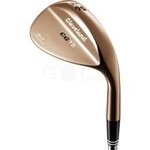 CG15 DSG
-
Cleveland
Introduced in 2011, the Cleveland CG15 wedges feature a classic shape and a wide sole, but with four laser-milled texture lines between each groove.
Available in 16 versions with loft angles from 46° to 64°.

Add To My Bag
Reviews/Comments
---





PDC
- 2/24/11
i own the 56 and 60 degree spinned milled cleveland wedges, and am absolutely blown away by the action i get on the greens with them. simply the best in my book.





Jim_High2
- 11/2/16





AmanaAm
- 7/25/16





dsjmeier
- 6/30/16





dbelmont
- 6/13/16





ChrisOzMediaguy
- 12/25/14





michaelbowman10
- 5/13/14





Jon 73
- 4/24/14
Golfer Stats
---
Number of Users: 352
Average Handicap: 12.6
Overall:





Value:





Look:





Performance: