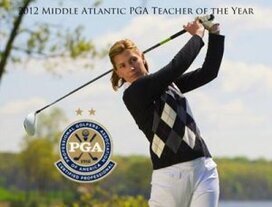 Uneven Lie Nemesis
By
Erika Larkin
on 8/21/13
Ever wonder why you can't hit well off of a certain uneven lie? From my experience teaching golfers, it's very common for someone to be predisposed to hit it poorly when faced with a lie that doesn't jive with their natural swing. It's also important to know how to adjust your swing temporarily to fit the lie.
Here are some examples of swing characteristics that make uneven lies challenging and how to better handle them:
The Lie: A downhill lie (ball below the feet) typically requires a steeper angle of attack. A golfer who has a very flat swing or has a tendency to stand up or chicken wing through impact would likely thin a shot from here.

The Fix: widen your stance and bend your chest down more at address to help steepen your swing. Make sure your take the club back on a straight path to create a more vertical plane. Stay low with your body through impact by feeling like you exaggerate a sitting feeling. REACH your arms. There is lots of room since the ball is farther away, avoid bending your elbows at all costs through impact.


The Lie: An uphill lie (ball above the feet) is the nemesis of a golfer who has a very steep swing. This person will likely hit it fat.

The Fix: narrow your stance and stand taller. Try and swing back flatter more like a baseball swing by working the club back slightly inside. Instead of swinging down, exaggerate the feeling of swinging out like you're going to hit it to right field(for a righty).


The Lie: A sidehill lie where your lead foot is higher is hard for someone who has a poor weight shift- they will have a tendency to fall back and top a shot. Someone who has a steep swing will likely hit fat into the hill behind the ball.

The Fix: Make sure your match your shoulders to the angle of the hill so the back shoulder is lower and then try to maintain your balance through the swing to the finish exaggerating a move to your lead leg.


The Lie: A sidehill lie where your lead foot is lower is hard in general but really hard for someone who chicken wings through impact or someone who has a very flat swing.

The Fix: bend your lead leg/knee so you actually put more weight on it and steepen your shoulder line to match the hill. Then allow your arms to really swing up on a vertical plane like you're lifting them immediately. Stay with the shot and try to follow the angle of the hill through impact. It should feel like you are reaching a little past the ball down the hill.
There is no question that uneven lies are uncomfortable to begin with and now I'm asking you to get out of your comfort zone even more and exaggerate certain things. But if saves you a few shots I know you will be happy you tried these tips and you might even learn something about your swing in the process!
[ comments ]
niall420 says:
The blog was absolutely incredible. Lots of extraordinary information which can be helpful in a few or the other way.
How to register a business name
Continue refreshing the blog, looking forward for more contents. Incredible job and keep it up.
3/26/18
Apktrendz says:
Download Whatsapp Plus and GbWhatsapp
Techies is never bored of using Whatsapp but now charming the new version of Whatsapp. Lets check the new version of whatsapp in this 2018. It is not possible that you are a having smartphone and you aren't aware of WhatsApp.As it is the most common chatting & calling app with over 100 million users worldwide. It is a good medium to connect with anyone all over the world. WhatsApp is among those apps we install first on a brand new smartphone because it is a well managed messaging app with the great user interface and fabulous features. (GB WhatsApp) But when it comes to stock WhatsApp there are some restrictions which can be overcome by using WhatsApp Mods ! GBWhatsApp is the most famous WA Mod loved & trusted by millions of users.
Get latest version of Whatsapp mods. Download
Whatsapp plus
&
Gbwhatsapp
from www.apktrendz.co
7/2/18
juliecaesar174 says:
I am very glad that I have come across to your blog because you have shared a one of a kind blog which has all the things in a very pleasant manner. The information you shared here is unique and informative which is very rear to see nowadays.I am writer working at
write my paper
for the past 7 years.I would have missed the useful information if I didn't find your site.
So keep on sharing hope to see more from you.
8/13/18
nikkihope says:
Thanks for your post. I've been thinking about writing a very comparable post over the last couple of weeks, I'll probably keep it short and sweet and link to this instead if that s cool
custom printed boxes no minimum
. The company offers a selection of merchandise, including consumables, seasonal, home products and apparel.
There is so much reality written in this content and everything is something which is very hard to be argued. Top notch blog like
www.customprintedboxes.us/
having excellent content .
9/29/18
annashetty says:
Excellent post. I was checking continuously this blog and I'm impressed! Very useful information particularly the last part :) I care for such info a lot. I was seeking this certain info for a long time. Thank you and good luck.
bullet force
10/29/18
shoutforloot says:
Gbwhatsapp is one of the amazing whatsapp mod developed till date. Want to use the dual whatsapp account? Simply download the gbwhatsapp latest version apk and you are ready to rocK. Your latest version of GBWhatsapp APK file will be present at GBWhatsapp folder of your file manager. Before going to install, you need to tap on 'Unknown Sources' and which is located in your system settings (Settings -> Security -> unknown sources). Now follow my step-by-step instructions to install gbwhatsapp apk.
Source :
gb whatsapp
11/6/18
[ post comment ]