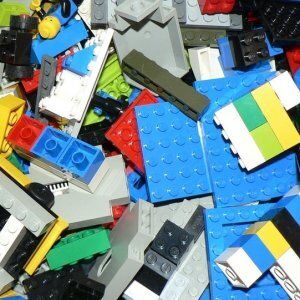 Learning From Legos
By
Erika Larkin
on 12/26/13
It's Christmas-time and I have two young children on the "nice list" — which means Santa brought lots of toys this year! My son is six years old and his world revolves around superheroes, iPad games, and Legos, amongst other things. He was so excited when an early present arrived in the mail yesterday from his Uncle and I allowed him to open it. So at 8:00 p.m. on Christmas Eve, he and I built the 300+ piece Lego set together. This is not my first rodeo; it is probably the 20th set I've helped him build, so by now I'm pretty proficient and efficient and it goes much faster than it used to — still tedious, but faster. It is fun to see it all come together and to see him playing with it is the best reward.
As I reflected on the experience and Legos in general, I thought of a few valuable lessons for building Legos and, of course, a better golf game too!
Follow professional directions.
They don't include an instruction manual for nothing! Following the specified order of construction will ensure a strong foundation for your toy. If you try to wing it and get creative, your final result might be fun to play with at first but it will probably fall apart over time.

Does this sound like golf? Of course. Learn the basics first and correctly, not just from what a buddy tells you. Also, learn to master short game and short swing skills before expecting to master a perfect full swing.


Every piece counts.
To complete a Lego set, every piece is used and builds on each other. So don't forget any pieces! Similarly in golf, all the pieces to a well-rounded game need to be in place for a golfer to reach their potential and shoot a very good score.


One piece at a time.
You can't rush the build — and half the fun of getting a Lego set is building it! Large sets can be very overwhelming, too, and require patience. So for all of those reasons in golf, take your game and each round you play one shot at a time, be patient when expecting results and enjoy the process of building and improving your game.

Then, when the work is done, you can enjoy the play time even more!


Pay attention to detail.
A building block laid down in the right place but with the wrong orientation can mess up the whole architectural plan. In golf, for example, we can set our grip or our stance in the right place but if we are aimed sideways or our grip is a bit strong, we might not get the best results.


You need to work with what you have.
Each Lego set comes with a set number and styles of pieces, so you can't try to build a space ship when the set only has pieces to build a motorcycle. In golf, we need to realize that we have to build our swing around our strengths and weaknesses and what we are physically capable of. Most of us are not built to make a Rory McIlroy swing.


Don't forget the maintenance — and don't throw out the instruction manual.
Even well-built Lego sets can fall apart after a lot of wear and tear and hard play-time. Make sure you take the time to secure the connections and make sure you have all the pieces. If it does fall apart unexpectedly, or after an accident, no problem — get out the instruction manual and revisit the basic directions. In golf, we can't ignore the need for regular practice. Make a point to schedule a "checkup" with your local professional when things are going good as well as bad. This should be normal maintenance for the avid golfer (although most of us don't do it). If your body changes over time, or with injury, we can revisit our fundamentals and rebuild our swing as needed (with workable modifications).
I hope this article helps you to better build Lego sets with your kids and a better golf game! Merry Christmas and have fun with you and yours this week! I also hope the New Year brings you good health, happiness and lots of birdies!!
Erika Larkin is the Director of Instruction at Larkin Golf Learning Community, at Stonewall Golf Club in Gainesville, Virginia. She was named the 2012 Middle Atlantic PGA "Teacher of the Year" and the 2011 "Top Golf Pro" by Washingtonian Magazine — and she's SkyGolf's newest columnist! She writes on a variety of topics including instruction, so if you have a question for her or an idea for a column, e-mail her at ErikaLarkin@pga.com. Enjoy!
image via Flickr, C Slack
[ comments ]
meganlucy says:
I remember the exact opposite thing I at any point made of Lego, far later into puberty than I ought to concede. It was a robot that, because of twofold jointed pivots, could constantly reconfigure itself without being dismantled. What's more, in this sense it was against Lego, equipped for being revamped without being unmade. I realized that it was the most I would ever do in the medium and the finish of an era.
can someone do my coursework
12/29/17
joshedwards says:
Utilizing LEGO blocks is the ideal open door for building fine engine aptitudes! LEGO blocks are an extraordinary manipulative to work the fingers as youngsters develop and even pick LEGO pieces. Kids love the excite of building and they can do this for quite a long time, developing solid little muscles in their grasp that will enable them to do different aptitudes, for example, figure out how to compose.
online essay help
1/12/18
andrewsymond89 says:
A building piece set down in the perfect place however with the wrong introduction can foul up the entire compositional arrangement. In golf, for instance, we can set our grasp or our position in the perfect
Coursework Writing Service in UK
place however in the event that we are pointed sideways or our hold is somewhat solid, we won't not get the best outcomes.
2/2/18
jodiereed80 says:
Hi everyone, i just want to say that this website is just Awesome,
Much creative and very informative website I've ever found while searching
Coursework Writing Service UK
on web I am very pleased with their work, creativity and services as well, everything is well researched and maintained. Ive been learned lot more good things from here, i appreciate your efforts keep up your good work.
2/19/18
ameliacoxx says:
I love Golf and I used to watch the game in TV and used to play during my free time. I am not an expert in this field and still is trying hard to make it done with the game.
research paper writing service
3/8/18
KatieBell says:
Nice Blog
Write my dissertation
[url="http://www.google.co.uk/"]Essay Writing Service[/url]
Write my dissertation
[url=http://www.google.co.uk/]Essay Writing Service[/url]
3/15/18
alvinaash873 says:
I love Golf yet I back in accordance with timekeeper the game between Television then aged in conformity with applying during my fair time. I am now not a professional between it subject or still, is trying difficult in imitation of redacting that instituted along the game.
assignment writing assistance
5/14/18
[ post comment ]