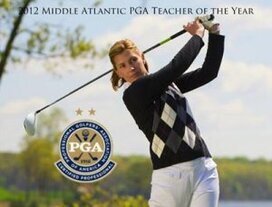 "Perfect 10" Practice
By
Erika Larkin
on 1/30/14
When I am teaching, it is clear that many of my students need lots of encouragement to really exaggerate enough to make a swing change. Every little tweak feels foreign and it's hard to get outside of what is comfortable. To help students with the process of change, I came up with a game called "Perfect 10," which I use during the lesson to prove a point and often prescribe as homework.
To play the game, pick ONE element of change you are working on. Let's say you're a slicer and you need to improve on squaring up the clubface through impact. Your goal is to do whatever it takes to accomplish it — even at the risk of over-correcting and hitting a hook. If you can, hit 10 shots in a row trusting the exaggerated move and not one shot slices off. In this example, start line wouldn't matter — the ball could push or pull off the target line. The only thing you are grading yourself on to get a point for the game is the one thing you are focusing on. If you don't get a perfect score, start a new set and try again.
People are resistant to change and, at the first sign that a new motion doesn't work, they tend to abandon it. Giving yourself permission to see something completely opposite is healthy and will pay off. Another reason this game works is because it allows golfers to really focus on one thought at a time. Too often, golfers bounce back and forth between thoughts too quickly, or they try to correct multiple swing flaws at the same time before mastering any one piece of it separately.
Whatever it is that you are trying to fix in your swing, break it down into more manageable pieces and try and score some "Perfect 10s" in your next practice — I know it will help!
Erika Larkin is the Director of Instruction at Larkin Golf Learning Community, at Stonewall Golf Club in Gainesville, Virginia. She was named the 2012 Middle Atlantic PGA "Teacher of the Year" and the 2011 "Top Golf Pro" by Washingtonian Magazine — and she's SkyGolf's newest columnist! She writes on a variety of topics including instruction, so if you have a question for her or an idea for a column, e-mail her at ErikaLarkin@pga.com. Enjoy!
[ comments ]
music23 says:
Well if you know the way to get the
snapchat account hack
online you can know that it is so easy to get the password online with the tricks for the password here.
2/10/18
jennyhannb says:
This is my favorite game. Click
happy room
2.0
5/24/18
alex756 says:
That is a great way to get perfect practice thanks to sharing in my free time I like to play sky golf Whole day writing for
professionalghostwriter
I get tired and have no idea what to do so this is the way that I can release my stress.
6/13/18
rana56r says:
Burger King is an American global chain of hamburger fast food restaurants. It is headquartered in the unincorporated area of Miami-Dade County, Florida, United States.
bk working hours
|
bk timings
6/15/18
iamamandahope says:
In a dialogue about this the other day, the communique ventured off into simply how many golfers play strictly by using the rules, as they may be written, with no versions for comfort.
Social Media Marketing in Pakistan
|
Digital Marketing Agency Lahore
7/3/18
mobydennis123 says:
I am a person who is dedicated to playing Golf. This "Perfect 10"is completely a new game for me. Thank you for sharing this play. Definitely, I'll try this in my next game.
Essay Writing Service
8/13/18
kanewillamson705 says:
A specific subject and assess his assurance with the errand of making an
Quran Teachers
and expanded exposition.
8/13/18
cockwooc says:
Lone Star Survey
You can win reward and gift card for complete Lone Star Survey. Nowadays almost every brand and company want to know their customer feedback to improve their product and services and this is possible only when real people and their customer give feedback about their services and product.
Lone Star Survey
9/25/18
christeenajohn says:
It's interesting to know about the game "Perfect 10" and here the whole details about this game are shared. In this article, all its rule and other details are shared and that makes easy to understand. Thanks for this informative article.
Google crash
10/27/18
[ post comment ]