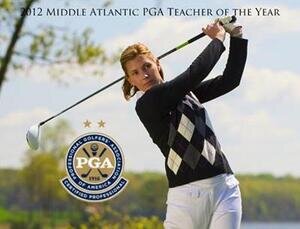 Last year was the first year of the national
Drive Chip & Putt
contest for junior golfers. If you don't already know about it, junior golfers competed all over the country to qualify in a skills challenge for a chance to win the final championships for their age groups on the 18th hole of
Augusta National
during Masters Week, April 10-13, 2014. It's pretty cool; be watching for that.
The skills challenge includes the following:
Driving
Hit three drives to a 30-yard-wide fairway — and you must hit the fairway to get points. The longer the drive, the more points (mininum four points for 100 yards or less, maximum 25 points for a 300-yard drive).
Chipping
Hit three shots on a 10-15 yards chip, medium difficulty. The closer you hit it, the more points you get. (Minimum one point for a 8-10 feet from the hole, maximum 25 points for a hole in one.)
Putting
Hit one putt from six feet, one from 15 feet, and one from 30 feet. (The degree of difficulty / break of putt depends on the age group.) The closer to the hole the ball finishes, the more points earned. (Minimum one point for finishing 4-5 feet from the hole, maximum 25 points for a hole in one.)
So why am I bringing this up?
It matters not if you're an adult or a junior — if you treat your practice sessions like you were preparing for this kind of skills challenge, I guarantee your game would improve and your scores would drop. This contest rewards accuracy over power
and
tests your ability to perform under pressure with such a limited amount of attempts.
I am a big advocate of practicing with a purpose and having the end in mind of getting your personal best on your own personal skills challenge. Use this format, or make up your own version! It will help you focus, help you measure improvement, and give you something to work on. Do not be afraid to set up tees on the practice greens to mark distances and create a practice station. On the range, visualize a 30-yard-wide fairway every swing and make your goal to hit it as often as possible.
Even though every round of golf is different (conditions, lies, pin placements, etc.) we can identify key shots that we are likely going to face and rehearse them. In school, if you had the questions to a test in advance, the test would seem easy when you get rehearse the answers in advance. Treat golf the same way and practice those test shots.
Preparing in this way will make your next rounds of golf seem so much easier!
Erika Larkin is the Director of Instruction at Larkin Golf Learning Community, at Stonewall Golf Club in Gainesville, Virginia. She was named the 2012 Middle Atlantic PGA "Teacher of the Year" and the 2011 "Top Golf Pro" by Washingtonian Magazine — and she's SkyGolf's newest columnist! She writes on a variety of topics including instruction, so if you have a question for her or an idea for a column, e-mail her at ErikaLarkin@pga.com. Enjoy!
Vishal23 says:
The site you may be looking to set clock in windows 10 desktop so from here
update clock windows 10
you can seize information useful to you.
3/5/18