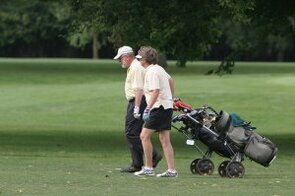 Marriott Golf Resorts To Push Walking
Most resort courses want to get you in their carts as fast as they can. They don't even want to offer a walking rate... until now.
... Marriott Corp.'s golf division announced recently that it will try to encourage people to park their carts at about a dozen of its golf resorts and walk the courses instead, in the name of better health and fitness. The Bethesda-based hospitality giant plans to accomplish this by making available a fleet of modern pushcarts for anyone inclined to wheel a golf bag around the course instead of riding the cart paths.
I wish they would've listed the 12 resorts they'll be trying this at... so I can avoid them!
Just kidding.
This is great. I know a lot of people think (myself included) that walking is actually faster than riding, gives you a greater sense of satisfaction when you're doing it, and often results in better scores. Still- resort courses are all about one thing- GROUPS! Corporate events, tournaments and fundraisers. People playing that kind of golf don't walk, so I think this is going to be a bit of an uphill battle.
Full Story
photo source
[ comments ]

richard@allenbs.co.uk says:
Golf is supposed to be a sport where you get exercise and fresh air. Surely these carts are merely there to enable those who are unable to walk the full distance to get the enjoyment of a game of golf? I am horrified when I see young lads whizzing round a course in a cart. They probably then pay to use a gym ...
5/21/10

mtrifo1 says:
good point. they probably do!
5/21/10
martin1956 says:
I think there is moreusage of carts in the States than over this side of the pond. This may be due to our courses being more compact with less distance between the holes, but it is more "traditional".
I enjoy walking the course but nowadays and especially on hilly courses I prefer to use a powakaddy. I dislike the cart guys especially when they dash up behind and slam the brakes on just as you are trying to tee off.
5/21/10

mashedpotatoes says:
I bought a Bag Boy 3-wheel walking cart on clearance last season and I LOVE it! I only get to walk about half of the time as a lot of courses are just too hilly/mountainous, that or the tee time is a package deal that comes with a riding cart. Otherwise, walking is the way to go! It's truly faster, you feel better and I do think you shoot better scores this way as you aren't rushed to get back in the cart and help your partner drive around and look for his or her ball.
5/22/10

Mr MW says:
I've played in the UK and Ireland and all of the locals walk. Buggies (carts) are only used by the Americans but typically only until they realize that everyone else is walking. The pace of play is so much better b/c the carts aren't on top of each other and driving all over the hole. Everyone heads for their own ball. This should be encouraged. Unfortunately in Florida, it is a near impossible concept due to 90+ heat & humidity as well as long distances between holes thanks to gated communities.
5/23/10
shubham says:
Great things of this site is that if you want to read this site
windows 10 computer name
then without any person help you can do that easily and then you can use also.
11/26/18
[ post comment ]