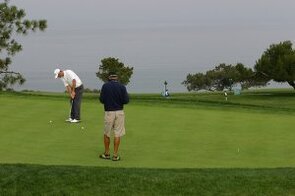 Dustin Johnson's Terrible Two
By
mustang6560
on 8/16/10
I am not sure who to be mad at, but boy let me tell you, I'm pissed! In case you didn't see what happened, Dustin Johnson was leading going into the 18th hole and was penalized two strokes for grounding his club in what ended up being one of the 12,000,000 bunkers at Whistling Straits.
A controversial rules violation marred the final round of the PGA Championship on Sunday and cost Dustin Johnson a spot in a playoff and a possible major title.

Johnson grounded his club in what was deemed to be a bunker before his second shot, leading to a 2-stroke penalty.
Johnson had a one stroke lead going into the 18th hole. After an errant tee shot, he hit his second shot from what looked like nothing more than a pile of dirt. Dustin finished the hole with a bogie and thought he was headed for a 3-way playoff with Martin Kaymer (the eventual winner) and Bubba Watson.
The rules official stopped Johnson after he putted out to inform him of the penalty. This dropped Johnson out of the playoff and into a tie for fifth place for the tournament.
When I first heard about this (admittedly I was out playing golf while this was happening), I blamed the Rules Official for not warning Johnson prior to the violation. Then I got mad at Dustin's caddie for not stepping up and questioning the "sandy" area. I even got mad at the crowd for standing in the "bunker" (if you watch the highlights, you'll see the entire gallery was in the "bunker" with Dustin).
The whole situation is terrible. You hate to see anyone lose out on a chance to win on a technicality - even your worst enemy. I think Dustin will have nightmares about this shot for years to come. The 'what ifs' are going to haunt him. What if I hadn't hit such a poor tee shot? What if Bobby Brown (Johnson's caddie) would have chimed in to question the ground? What if the Rules Official would have warned me?
However, Dustin cannot blame anyone but himself. In a perfect world, the Rules Official and/or Bobby would have warned him before the shot. But at the end of the day, the buck stops with Dustin. I really feel for him and I hope he, along with every other Pro, takes this as an learning opportunity.
Full Story
photo source
[ comments ]

paddyhibernian says:
It is not the responsibility of the Rules official to warn him, otherwise you would have rules officials running about like headless chickens warning players prior to every shot.
It is however the responsibility of the Rules official to act an any breach of the Rules he/she observes.
That's what the guy did.
The most important Rule for all golfers is Rule 6-1
8/16/10

JP Harrison says:
They should never use that course again for a major tournament. Any course that has to let spectators stand in the hazards due to the design of the course is not up to the job. I think Dustin will get over it because he seems to have shrugged off the US open crash but he won't want many more. I wanted Bubba to win but Kaymer played very well in the final round and was a deserving winner.
8/16/10
bgnelsen says:
Definitely not the rules official fault in my opinion. It's ridiculous that they let the gallery stand in a bunker though, if he would have hit his tee shot there with the area not trampled he might not even have found his ball so he might have ended up with a triple anyway.
With that many bunkers on the course he should have asked the official or his caddy should have asked before he pulled a club out of the bag. It's gonna be a long off-season of thinking what if i woulda asked or if i wouldn't have choked at Pebble.... He'll be back with a vengence next year.
8/16/10
dicampbell says:
According to the post round interview with the rules official, all players were aware that those areas were considered bunkers whethere they were located inside the ropes, or not.
It was a crappy result to an otherwise exciting tournament, but I think it was Dustin's error.
8/16/10

mustang6560 says:
@paddyhibernian. Agreed, the Rules Officials can't proactively patrol every shot for every golfer. However, at this point in the tournament (second shot on hole 18), they can afford to have a Rules Official be proactive and warn Dustin.
In my opinion, it's not hard to see how Dustin missed didn't notice the "bunker". I am saying the Rules Official cost DJ the championship, but at that pressure filled stage of the game, it's hard to image trying to remember that everything/anything could be a bunker. I know if it was me, I'd be just trying to remember how to swing the club :)
8/16/10
DrummerBoy says:
Ok for me Dustin new he was in a potential bunker - when he stepped back complaining of the shadow he new at that point there maybe an issue. The reason, he did not seem to ground his club before making the shot, he new at that moment trouble was possibly ahead oh dear I just cocked up!!!.....If I was making the shot and thought I was in rough I would of grounded my club before taking the shot, he did not! ...its just a thought perhaps he new he had made a terrible mistake with a one shot lead! A mistake at a very pressurised point in the competition I feel for him....DL
8/16/10

HMTrey says:
I see it as both parties fault. The PGA should have had those bunkers marshalled!!!! I mean the do for any other tournament. Also who else went into a bunker and didnt think it was a bunker and got assessed a 2 stroke penalty? Yes they posted a note to all players but they had years to determine and to get more marshalls. I say 50/50.
8/16/10

martin1956 says:
If there was any question he shouldn't have grounded his club. I gather there were signs all around the locker room, it was top of the items on the local rules so it was just a most unfortunate mistake on his behalf. Very sad but such is life.
when you have so much sand and when it is used to pretty up the course rather than to protect the greens this sort of thing is always going to happen. As to marshalling the crouds better, why? If you hit the ball that wide finding unraked sand in a bunker is just about the right penalty.
Wake up people, who said that golf is fair?
8/17/10

HMTrey says:
Martin you missed the point. But that always happens in forums. I agree if he hit it that far right it is what it is, but I know he is not the only one who hit it into a area beat down by the fans and got assessed a penalty. I watched on 701,702,703,704,705 on DTV.
You say why? thats like saying why let the obnoxious fan yell profanities. With a course like that the PGA could have sent the same message to the head marshall to inform him of the rules. Its just an opinion and mine won't change. I still say 50/50. I feel bad for DJ as I wanted him to win before the PGA even started. I wanted Tiger to come in 2nd in a tie with John Daly.
Nobody ever said golf was fair, nor is life, but if we have a greater chance to make it that way we do i.e. the consistant changes in life such as laws rules contracts and so on.
8/18/10
[ post comment ]