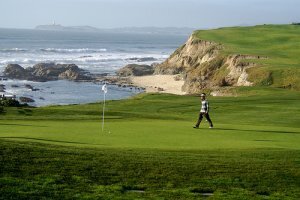 Golf Is a Gentleman's Game
By
mustang6560
on 8/18/10
Ever since Dustin Johnson's now infamous "bunker" shot on the 18th hole at Whistling Straits, I've been thinking about the rules of golf that govern this great game.
It got me thinking, do you call violations on yourself? Much less, if you were playing a course similar to Whistling Straits, would you penalize yourself if you found out you violated a local rule by grounding your club in a "bunker"?
Rick Reilly wrote a column and took some jabs at the rules of golf and those in charge of writing them.
Golf is the best game with the stupidest rules ever invented.

It is considered heroic to call violations of these rules on yourself, even when the rules themselves are as dumb as a box of hair.
There are many silly rules in golf that Reilly cites in his column like if the wind moves your ball and your club was near it or addressing it, it's counted as a shot. The question I have for you is, would you call that on yourself?
Granted, you are not playing with golf immortality and millions of dollars on the line so the situation is not quite the same as Dustin. However the level of integrity remains the same no matter the skill level. Do you take stroke and distance when your tee shot goes OB? Do you move your ball when it's behind a tree? Do you "give" yourself that close putt you missed to save par?
If you had asked my those questions a year ago I would have answered NO, YES and YES. But now I am playing more golf and can see a greater level of improvement in my game. And I'd rather not beat my score and penalize myself than set a personal record and know there is an asterisk by it. Even if I am the only person that knew about the violation, I would rather know I played the game the way it was supposed to play.
Despite the "stupidest rules ever invented", I think most Sunday golfers are like me and count every stroke. Even if that is the difference between a 91 and an 89.
Full Story
photo source
[ comments ]

paddyhibernian says:
If you answered NO, YES and YES to those questions you were not playing golf. You were playing a game similar to golf and when you grow up you can then move on to playing the real game of golf.
8/18/10

mustang6560 says:
@paddyhibernian- nice dig! I would agree. The more you play and the older you get, at least in my experience, you tend to find meaning in the rules. Golf would not be the same if you could improve your lie at any point during the round.
8/18/10
cannymark says:
no no yes not if playing a match no
8/18/10

JRB1 says:
Well the answer is No, No and sometimes. but only because we do not play on the PGA tour. So sue me. I cannot go back to the tee to take the distance part of the penalty. However if I suspect my tee shot is OB I'll usually hit a provisional. Sometimes I'll brush at a short putt to save time, make it or miss, I'll count that shot as holed. I would never do it in any competition. Guess I'll need some more time to grow up.
8/20/10

JRB1 says:
As for Dustin Johnson, it is unfortunate, but it was his responsibility. The local rule however that they played under was a bit foul. As a caddy said (I Agree) 'If a rule is so incredible that they feel the need to over explain it, it's time to rethink the rule', in this case they made a decision to allow gallery to trample the bunker, they should make a like decision to play those bunkers "through the green" They claim if they had not allowed the gallery to walk were they did, they could not have any gallery. Well, then they should have not had the tournament there either. I've played that course, it is very nice, but some of those too many bunkers are in the strangest place. Although, strange as it may have been, Dustin found it, so I guess I'll tip my cap to Mr. Dye!
8/20/10
khushbu says:
Hello just go on the website
rememberpasswordsinmicrosoftedge.net/
for more information.
8/20/18
pauldonnelly2018 says:
What
term paper writer
said: many excellent teachers do well in the public schools and don't reach a point at which they consider leaving to work elsewhere.
8/22/18
jbourn2351 says:
This is really amazing place for
how to unpin taskbar in windows 10
online with it's tutorial.
9/28/18
alexandrawork100 says:
Amazing! I have no words to characterize its effortlessness and similarity with space. Indeed, even this
pay someone to do my essay
topic looks decent to bear rather that rolling so I should state that it's an incredible accomplishment regarding style.
10/8/18
annashetty says:
Your articles are really amazing and I got a lot of information and guidance reading them.
cool math games
10/18/18
onedollarwebhostings says:
I have read your post. your post is filled with unique and important information.
$1 year web hosting
2/9/19
[ post comment ]