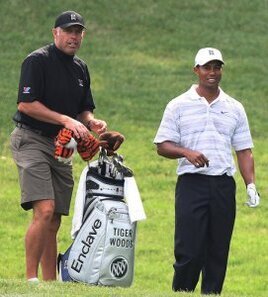 Tiger May Ditch Caddie
By
mustang6560
on 8/19/10
Tiger Woods shocked the world by switching his putter ahead of the 2010 British Open.
Is he on the verge of making another shocking decision by getting rid of his caddie?
New Zealander Steve Williams doesn't believe his job as Tiger Woods' caddie is under any threat, despite media speculation about their 11-year association and concern over the champion golfer's form.

Williams told New Zealand radio Wednesday that he and Woods remain close friends and there is no possibility their working relationship is about to end.
Tiger Woods used to be a very consistent guy. He putted with his Scotty Cameron, Steve Williams carried his bag and he won.
But lately it seems the only thing consistent in Tiger's life is inconsistency. I can understand how Tiger would want to change things up since he's not winning. However, he doesn't need to do anything drastic.
He is spending way too much time skirting around what's really causing his game to slip and not enough time trying to fix the problem. I understand the media makes these stories out to be more than they really are but Tiger, since your reading this, stick to what makes you successful. Your problems on the golf course are caused by your decision made off the course. Fix your life and then your golf game will come back.
I think getting rid of Williams would be foolish because the two have developed a relationship of winning.
Full Story
photo source
[ comments ]

curtis1682 says:
never happen
8/19/10
Phil B says:
you are = you're
8/19/10

JRB1 says:
Yup, that's (that is)what Tiger needs to do, get rid of Stevie, it's (it is) all obviously his fault. If Stevie didn't make him go after all those "women" this would never have happened. Yup, all Stevie's fault!!! All kidding aside, (maybe not all) what Tiger needs to do is go back to being Tiger. That is be selfish, single minded, all about him, no one else. This of course is why he did what he did, but it's also why he could focus so well. When it's all about him, he sought out what he needed, wanted, desired. Both sides of his world were the same, all Tiger all the time. Now the 'new Tiger' through his 'therapy' has included others in his life, like the kids...... for instance. An imbalance of the life that created the super golfer...... IMHO
8/20/10

HMTrey says:
How is one selfish and single minded when they have organizations to help others? never understood that line. Truth be told we all have that in us and to say we don't is just a lie we tell to ourselves. Like the saying goes, it's your lie tell it like you want to.
Fact is betting on golf is a selfish act, going on continued golf trips and not taking the family is a selfish act. We all are selfish so if we are brutal with tiger we must be brutal with ourselves as well. We wouldn't want to be hypocrites would we?
8/20/10
kcnoman says:
IMHO...it has nothing to do with his caddie or ability to hit the shot. It has to do with his mental game. As mentioned before, it's his lack of focus. His mind is everywhere but on the golf course. Or...he became addicted to pain medication during his knee surgery and now that he is back to playing golf he is trying to kick the habit and it's probably not a smooth transition. Or...he is trying to reduce his income until after the divorce is final, so the crazy lady with the violent temper doesn't chase after him again with the tools of his trade. Of course the first part of this is sincere...the other two parts was TRYING to be funny. In reality, it's not any of our concern what Tiger does. I suppose when I'm worth 1.3 billion dollars, I might be able to suggest how he manages his career and life...until then I will watch the game of golf, whomever is playing and wait for Tiger to ask me for help.
8/20/10

Penny says:
Steve is a lacky boy i.e. a 'Yes' man! he's about as loyal to Tiger as Tiger was to his wife! just get on with the game - all this attention seeking is getting really dull!
8/24/10
Reggie1 says:
Reggie says: Just wait. He will be back and with a vengence. We all deserve a 2nd chance. We all think Tiger is done. 2nd in totals for the Majors. He's close. The putter will be fine when the driver He does find...........Hang in there Pal..........Your Bud Reg
8/25/10
[ post comment ]