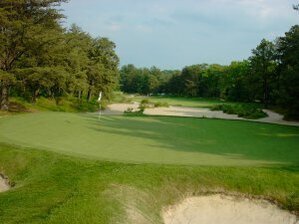 New Top 100 Courses List
Golf Magazine released its biennial Top 100 Courses in the U.S. and World and once again, I haven't played any of them.
It should come as no surprise for two reasons: 1) only a handful of courses in my area made the list and 2) I can't really afford to pay $100+ for a green fee at my age. But, I'm actually surprised that so few courses from the Dirty South (Mississippi, Alabama, Louisiana, Arkansas, Tennessee, Georgia) made the list. Regardless, the courses that DID make the list are very deserving and I congratulate each one of them.
Nos. 1-9 in the Top 100 Courses in the U.S. remain unchanged from the 2009 list with Pine Valley coming in as the best course in the U.S. and the world. Has anyone had the opportunity to play Pine Valley? If so, please let me know what makes this course so special.
Of the all the new courses added to the list, I've heard the most about Old Macdonald in Oregon. It received high marks from the moment it was unveiled to the world last year as the fourth course at the Bandon Dunes Resort. I would love to plan a trip to Oregon to play all four courses (oobgolf round trip anyone?).
Has anyone played a course in either Top 100 list?
Top 100 Courses in the U.S.
Top 100 Courses in the World
photo
[ comments ]

lindsaya says:
I've played East Lake (#56 on US list) and Cruden Bay (#83 on World list). I haven't played Pine Valley (yet) but Top 100 Golfer has...
top100golf.blogspot.com/2007/05/pine-valley-golf
8/2/11

el_pato_real says:
Wow...who would really rather play Pine Valley and Cypress Point than Augusta?
8/2/11

paddyhibernian says:
Been lucky enough to play many of them including Muirfield, Carnoustie, Lahinch, Kingsbarns, St. Andrews Old, Royal County Down, Turnberry, Portmarnock Old, Ganton, Machrihanish, Royal Porthcawl and am delighted to be a member of No. 89 in the world rankings. How lucky we are to play this game.
8/3/11

6barrister says:
I have played Ballybunion Old, Portmarnock, Lahinch Old, Royal County Down, Oakmont, Sawgrass Stadium, Laurel Valley
8/3/11

Rockin' says:
I have played Pebble Beach, Turnberry and Woodhall Spa all three are splended. Augusta National, Cypress Point and Loch Lomand are the 3 I would most like to play.
Thanks for reading my post. R.
8/4/11
[ post comment ]