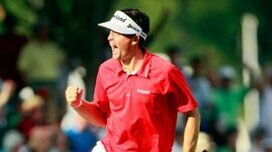 Keegan Bradley Apologizes
By
mustang6560
on 2/21/12
Keegan Bradley wants to putt the spitting incident is behind him.
@Keegan_Bradley tweeted: "Id like to apologize for my spitting It's like a reflex,I don't even know I'm doing it, but it's a longtime habit I've got to try to conquer"
Aw, how special - Keegan's first controversial moment and subsequent Twitter apology as a PGA Tour player. They grow up so fast these days (sigh). I remember when he was just a rookie...
I only caught the tail end of the golf tournament Sunday so I didn't notice Keegan spewing human saliva like a sprinkler head. However, it happened and apparently it upset quite a few people. Hopefully the issue is settled now.
@Keegan_Bradley
photo via PGA.com
[ comments ]
gerald12 says:
slowest tour player I have ever seen!!
2/21/12

BIG $exy says:
Dont people have anything else to do besides worrying about a guy spitting on the damn ground.......someone needs to get a life and maybe worry about something important like what that idiot up in DC is doing to our country.
2/23/12

parman68166 says:
Spitting I could ALMOST tolerate (have you ever picked up a ball that had someone elses spittle on it?), but there is absolutely no excuse for his slow play. To me that needs more attention than does his spitting.
2/24/12
[ post comment ]