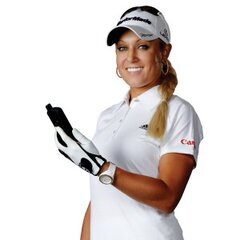 Natalie Gulbis Finishes T8 at Kraft Nabisco Championship
LPGA superstar and SkyCaddie Advisory Team Member Natalie Gulbis had a strong performance last week in the first major of the LPGA season, the Kraft Nabisco Championship. Her final round seven-under par 65 propelled her to a T8 finish, her first top 10 of the young season. Natalie is hoping to carry the momentum from the Kraft Nabisco Championship forward through the rest of the 2012.
Following the tournament, Natalie took some time out of her busy schedule to answer a few questions. Find out what she had to say about her experience at Mission Hills Country Club and her advice to amateur golfers with high expectations for their golf game. You can follow Natalie on Twitter
@natalie_gulbis
and on Facebook
facebook.com/natalie.gulbis
.
SkyCaddie: Securing a Top 10 finish in the season's first major is impressive and shows your game is in a good place. Can you talk about some of the keys to your recent success?
Natalie: The biggest key to my success at the Kraft (Nabisco Championship) was better course management and putting well. In major championships, it's all about making putts for par, and making birdies whenever you get the opportunity. I led the field with 22 birdies, which helped me finish inside the top ten.
SkyCaddie: What kind of game plan did you take into the final round of the Kraft Nabisco Championship, knowing you had to go low to get back into contention?
Natalie: My plan on Sunday was to be aggressive, and shoot at the pins I knew I could go at. Looking at the tee sheets on Sunday morning, I knew there were going to be 12 opportunities for me to execute my plan. I got off to a great start on my front 9, and adrenaline took over from there and I put together the day's low round.
SkyCaddie: Coming off that terrific 65, what aspects of your game will you work on most heading into the next tournament?
Natalie: I am going to continue to work on my short game, 120 yards and in. My wedge play and putting were great last week, and I will continue to work hard on both areas of my game.
SkyCaddie: Your 7-under par 65 was the lowest score in the final round of the Kraft Nabisco Championship. What role did your caddie play in your spectacular finish?
Natalie: My caddie was really in tune with me during the last round. The setup was the toughest of the four days, and he really helped me with club selection and reading putts. My caddie is very good at reading greens, and those were some of the most difficult we play all year.
SkyCaddie: For amateurs who play without a caddie, what advice would you give them for saving shots on the golf course and practicing good game management?
Natalie: I would advise them to spend time using their SkyCaddie. Really look at the hole, the positioning off the tee, the bunkers, etc. You can't undervalue the importance of good course management, no matter what your skill level.
Follow SkyCaddie:
@SkyCaddie
and
facebook.com/SkyCaddie
[ comments ]
polo2018 says:
www.cheap-jerseys.mex.com/,
www.nikeair-max.ca/,
www.jewelrys-swarovski.com/,
steelers.nfl-jerseys.org/,
www.new-balanceshoes.com/,
www.michaelkors-bags.co.uk/,
www.supra-footwear.net/,
www.linksoflondonvip.com/,
patriots.nfl-jerseys.org/,
www.okoutletvip.com/,
www.nfl-jerseys.org/,
lions.nfl-jerseys.org/,
www.raybansoutlet.net.co/,
www.ralphlauren-canada.ca/,
azcardinals.nfl-jerseys.org/,
www.kate-spades.net/,
www.outlet-toryburchshoes.com/,
hornets.nbajerseyssale.com/,
www.cheap-timberlandboots.com/,
www.raybans-outlet.cc/,
www.swarovskionlineshop.com.de/,
www.the-north-face-jackets.com/,
www.burberryoutletonline.com.de/,
www.coachblackfriday.com/,
www.nfljerseys-sale.com/,
www.guci-heaven.com/,
www.mcmshandbags.com.co/,
www.vibram--fivefingers.com/,
www.australia-uggs.com/,
www.mcmbackpacks.com/,
htt
7/8/18
[ post comment ]
Most Popular:

Subscribe