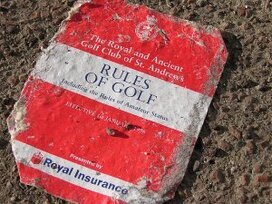 The Correct Way To Apply Rule 26
By
David Horne
on 4/19/13
Last weekend's Masters was a huge win for golf fans. It was an exciting tournament with a great finish, and wonderful drama. We saw the grit of Adam Scott and Angel Cabrera, were awed by Guan Tianlang and heartbroken with Brandt Snedeker.
One of the more interesting stories on Friday came from Tiger Woods. He was a penalized for taking an improper drop on hole 15. We're not going to go there but if you'd like to check out the shenanigans,
click here
. However, we are going to talk about what options players have in relief from a water hazard.
There are two types of water hazards you'll face on the course, regular water hazards and lateral water hazards. You've probably noticed red stakes and lines, and yellow stakes and lines on the course. Well, I know you've never hit the ball in there, but you've seen them right?
If you find your ball, er... I mean your playing partner's ball in the water, the player may incur a one stroke penalty. Here are the player's options:
Under the stroke and distance provision(rule 27-1), you can play the ball as near as possible to the spot where the original shot was played (rule 20-5).


You can drop the ball behind the water hazard, keeping the point where the original ball last crossed the hazard staying directly between the hole and the point it crossed, going back as far behind the hazard as you want, the ball may be dropped.


Additionally, if your ball finds a lateral water hazard, you can drop outside the hazard at the point the original ball last crossed, or the point on the opposite margin, within two-club lengths no closer to the hole.
Now, if you are brave and feeling dangerous, you can always play the ball within the water hazard without penalty like
this
or
this
.
Here's a link to the USGA's
Rule 26
.
Fine, we are going to go there. Let's clear up where Tiger's two-stroke penalty came from. He incurred the penalty due to an improper drop. As we discussed in option "1", Tiger was supposed to play the ball from a spot nearest to where the original shot was played. When Tiger took his drop, it wasn't as close in proximity as the rule allows.
Media outlets wouldn't let the penalty end there however, as many arguments called for his disqualification. This seemed like nothing more than a ratings play. Tiger's DQ was hedged by Rule 33-7, which enables the committee waive disqualification. This decision was instituted by the PGA Tour in 2011. Case closed. We're just thankful the event will be remembered for two incredible performances down the stretch from two great champions.
Have a rules question? Ask David in the comments section below.
Image via Flickr, chebbs
[ comments ]
bigeye says:
When Tiger dropped the ball, as the stroke and distance rule requires, he failed to comply with the Rules of Golf. The ball, when played and eventually holed out, was invalid. He should have returned to the point as close as possible and corrected HIS error before teeing off at the next hole. Failure to do so means he signed for an incorrect score. AUTOMATIC Disqualification !!! Or is MR Woods bigger than the Rules of Golf ??
4/19/13

Robocpa says:
bigeye: Do you think Tiger or anyone else cares what you think? You probably can't play and you don't know nothing of the rules... You only point is to crack on Tiger. Sounds like a loser hating to me..
4/19/13
bigeye says:
The bottom line is he made a wrong rule judgement and should have been disqualified. End of.
4/19/13
ally1957 says:
Rule 33 was brought in to counter technical breaches of the rules seen only by TV viewers in slow motion on sky plus or tivo playback (this websites view on monday) Not a deliberate play by someone who ought to know better people have been disqualified for far less. (the all lies in sand are hazards escapade a couple of years ago) the PGA stance then was he should have known> Well.....
4/19/13

bigmo4242 says:
I keep hearing people (aka. Tiger Haters) saying Tiger wasn't playing by the rules of golf. This makes absolutely no sense what so ever. Rule 33-7 is in the rule book and was implemented. Hence Tiger was playing by the rules. Had this been the 2010 Masters Tournament then "Yes" Tiger would have been disqualified. But it's not 2010 its 2013 and the rules have changed. Other sports change their rules from time to time. The changes are put in to make the game better. I'm sure going forward Tiger will not be the only person to benefit from this rule. We as golf fans need to stop living in the past and come to the realization that this is a new era in golf and I for one am ever so happy that the rule was created.
4/20/13

martin1956 says:
It wasn't Tiger's fault that the "Committee" made the decision it did.
From the R&A website it does say...
Rule 20-7c. Playing from Wrong Place; Stroke Play
Note 3 is amended so that if a player is to be penalised for playing from a wrong place, in most cases the penalty will be limited to two strokes, even if another Rule has been breached prior to his making the stroke.
4/20/13
jdjaydee says:
Tiger got penalized for what he said, not what he did. He said he dropped the ball 2 yards further back but actually did not, as shown in a pic and story that ran in the local Augusta paper then mysteriously disappeared a day later.
Check out the side by side pics, still posted on the Augusta.com website.....
www.augusta.com/masters/story/blog/woods-receive
4/21/13
Brenton Doncouse says:
Tiger made a simple mistake, he didn't purposefully lie on his scorecard, he's not crazy enough to cheat for one lousy point. I don't get why people are hating on him for the PGA's ruling, it wasn't Tigers decision. You should of stopped watching golf after they made rule 33-7 if its such a big deal to everyone. The committee is smarter than the average golfer who sits on the couch and watches it on T.V. so deal with it.
4/25/13
bigj200016 says:
Just be sure if you do choose to play ball from inside the hazard that you do not ground the club inside the hazard, or you also would incur a 1 stroke penalty.
4/28/13
Chasilad says:
Q.A green side bunker is deemed G.U.R., due to work being done on the surrounding turf.Blue line denotes this, the line includes the contents of the bunker(sand)A ball lands in the bunker, what is the ruling and where does the ball HAVE to be dropped.Please state rule.
5/1/13
[ post comment ]