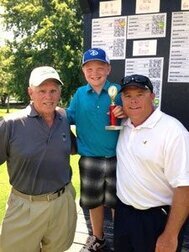 9-Year-Old Shoots 58
By
mustang6560
on 6/18/13
I am thoroughly
disgusted
impressed with Zach Adams, the 9-year-old who bested the likes of Al Geiberger, Chip Beck and David Duval by shooting a 58 in competition.
Competing in the Mount Pleasant Junior Golf Open this week at Patriots Point Links, Zach Adams shot an 18-hole score of 58.

Sure, the golf course he played totaled only 2,680 yards, but 58 is 58. And he did it in the heat of competition, shooting a pair of 29s over two days to win the 8-9 Boys division.

During the first round, Adams made an eagle and five birdies. He added two eagles and three birdies on the second day. The par-4 holes ranged from 150 to 170 yards, the par-5s were 200 to 215 yards and the par-3s were 60 to 75 yards.
On a separate but related note, I am tempted, for fun, to play from the red tees at Colonial (my home course) one day to see if I can break par. I highly doubt I could break 60, but I bet I could break 70.
h/t
Geoff Shackelford
Read an interesting golf article? Tip your editor!
Image via The Post and Currier
[ comments ]
max.rashwin says:
Give me the idea what to do when we have the problem like this
hey cortana not responding solved
?For that i suggest evry windows 10 User to visit this given web address homepage for better and perfect solution.
3/22/18
Coley12 says:
What the title suggest has nothing to do with
term paper writer
and I think that with understanding of this, we need to get more information from it so that we can see what we really want from it. Please teach me something about it.
5/17/18
hendryjullius says:
Here discussed 9-year-old shoots 58. I didn't get any information from this website. In the next updation please share some
How to fix printer spooler error
more details. Thank you for being part of the site.
2/8/19
johnkaitlyn95@gmail.com says:
I have read the report who have shared about 9-Year-Old Shoots 58
diamonds rings for cheap
. Felt really happy while reading this. Was really astonished by the talent of the kid. Words are insufficient to appreciate the talent of the kid.
6/24/19
[ post comment ]