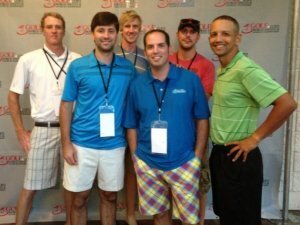 Left to right: John, Mustang, Tyler, Chris, Jay, and Gio.
After I finished writing my
Day 1 recap
, I walked over to the Myrtle Beach Convention Center, which is attached to the Sheraton, to join our crew at the World's Largest 19th Hole — the secondary attraction of the World Am. I met up with Jay, Tyler, Chris, Jay, and Gio (see group pic) to hang out and discuss the good and bad shots of Round 1.
All in all, I am happy to report that the community is represented in the 2013 Golf.com World Amateur Handicap Championship! We have four players inside the Top 25 in their respective flights — including a T-8 and two T-2s! These are the scores after Round 1:
Flight 2: Chris — T-8, 82 (Net 76)

Flight 4: Thomas — T-18, 85 (Net 77)

Flight 5: Gio — T-2, 82 Net 73

Flight 5: Mustang — T-2, 83 (Net 73)

Flight 7: Tyler — T-32, 93 (Net 81)

Flight 7: Jay — T-37, 95 (Net 83)

Flight 8: John — T-37, 95 (Net 82)

Flight 31: Gary — 46
I will write more about the 19th Hole later. For now, I am off to bed to get some beauty rest before the start of round two. I'll see y'all tomorrow!
ally1957 says:
Last time i saw faces like that it was on the post office wall :-)
8/27/13