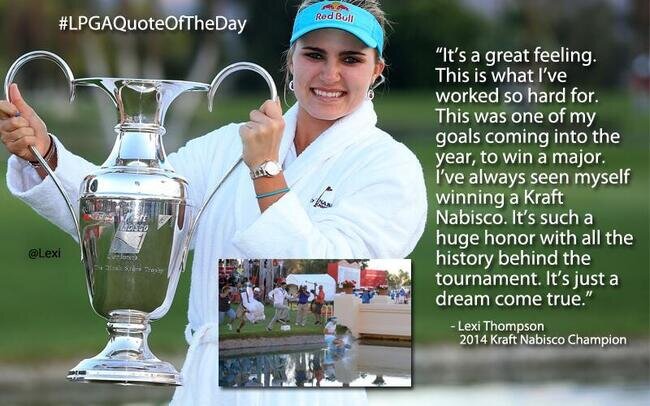 Lexi Thompson is a major champion. And we knew this would happen.
The 19-year-old Florida phenom started Sunday's final round of the Kraft Nabisco Championship tied with Michelle Wie, but outlasted her on a tough Dinah Shore Tournament Course at Mission Hills Country Club. Tied with Wie after two holes, Thompson was unafraid to use her driver early on, while Wie stuck to her game-plan of taking fairway metal off the tee. And while Wie bogeyed 3 and 8, Thompson pulled away with birdies at 1, 4, 5, and 9, then played the final nine holes in level par. Wie attempted to get aggressive on the closing nine, but she kept leaving putts short, which cost her momentum after birdies at 11 and 14. And when Wie three-putted 17, it was all over.
Thompson's 68 was the low round of the day afterward:
"I play this course very aggressively. I didn't want to change the way I played the last few days because my driver won't get me in any trouble on a lot of the holes. So, laying back wouldn't really make sense.

"The greens were a little firmer, so even with a wedge in your hand you had to play for quite a bit of bounce out. I figured the closer I could get, even if I was in the rough, I could get it pretty close to the hole."
Solid second
For her part, Michelle Wie and her putter came up short, but her solo second-place finish is her best-ever in a major championship. Shooting 67-71-68-71 = 277, Wie finished four shots ahead of solo third Stacy Lewis, five ahead of Cristie Kerr and Se Ri Pak, and six ahead of Shanshan Feng — all of who are major champions already.
And although Wie came up short on the greens and against Thompson. she deservedly feels some confidence after her best performance in a major:
"You know, it was a lot of fun playing in contention, being in the final group. It was nice to be in the final group at Kraft again. I think it's a sign. I think I'm getting close. I think I can get a lot of confidence from this week. I think I'm improving and improving, and I think getting second at a major, I think it means that I'm close, and I'm really proud of myself, and I'm really excited for the upcoming events. There's four more majors left this year, and I'm just really proud of myself, and I just want to keep improving a little bit every day."
Indeed, Wie was one of the bright spots for the United States Solheim Cup team last August in Colorado. Coupled with her strong showing at the tournament many people still call "The Dinah," in deference to the tournament's original name and hostess, Wie could be in line for another win this year. Is she good enough to do it at a major?
Aussie Amateur Rules
Australian golfers keep shining on the world's biggest golf stages this year. Perth-born amateur Minjee Lee came into the 2014 Kraft Nabisco having won the 2012 U.S. Girls' Junior, the 2013 Australian Women's Amateur, and the 2014 Oates Victorian Open. In finishing T-24, Lee captured the low amateur trophy, although she had to overcome a seesaw double bogey-birdie-bogey start.
Style Points
Thompson's caddie, Benji Thompson (no relation) dominated the plunge into Poppie's Pond with a full flip, easily out-doing Thompson's half-cannonball:
Next up
The LPGA has this week off, which is good because everybody will be watching The Masters. They next tee it up in Hawaii at the LPGA Lotte Championship on April 16. The next major is the U.S. Women's Open at Pinehurst #2, the week following the men's U.S. Open on the same course.
Read more, presser
Read an interesting golf article? Tip Your Editor!
Image via Twitter, LPGA
no comments posted yet.