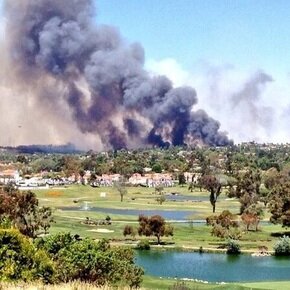 This week, Southern California has been suffering under unusual drought conditions and temperatures above 100°F, both of which have resulted in several wildfires. But one that started yesterday at noon PDT has affected people and places in golf.
Among the businesses (and homes, of course) affected by the Poinsettia Fire are TaylorMade Golf (including adidas Golf and Ashworth), Callaway and Odyssey, Cobra-Puma Golf, and the west coast offices of Titleist.
Several courses that have been PGA Tour and LPGA venues are also affected. The fire burned to the edge of the 7th hole at La Costa Resort, but the fire did not actually advance onto the course. Close by, the Park Hyatt Aviara Resort — home to the LPGA's Kia Classic — had to close down and evacuate their guests.
Naturally, homes and businesses are not the only places being affected, California State University-San Marcos is closed at least through May 18 and has been evacuated. Not surprisingly, commencement ceremonies there have been cancelled.
Official State of California fire web site
Read more
Read an interesting golf article? Tip Your Editor!
Image via Twitter, Dave Cordero of TaylorMade Golf
advydv says:
if you are like the online games to play the more games only one use this methide and you have connected the right views
mahjongfreegames.online
more exciting movements are this website they are waiting for your new working.
6/25/19
coachoutlet says:
louis vuitton
In addition to tears, it is time that can wash everything away. The longer the time is, the lighter the conflict is. It is like tea diluted constantly.
louis vuitton outlet
9/18/19
Evell1988 says:
This is a good source of information about global issues. Here in this article, they write about the California wildfires that how they are affecting the forests and golf grounds and you have to check
essay-writing-services.reviews/papernow-org-revi
info to manage their educational work. The big reason for these wildfires is the high temperature due to global warming and I appreciate the writer to highlight this issue.
9/26/19