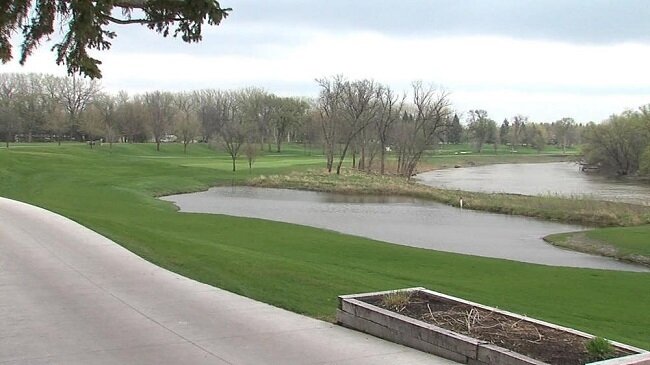 Part of the Fargo Country Club course plays alongside the picturesque Red River of the North.
Occasional river flooding is an issue 1996 Open champion Tom Lehman plans to address in a redesign.
Each year, the United States Golf Association conducts 13 national championships for individual golfers, along with five team championships. And even though events like the Boys' and Girls' Junior championships are not seen on television, they are still prestigious enough that public courses and private clubs go to extraordinary lengths to be awarded one.
In the last 15 years, the USGA has had tremendous success staging some of their events in the midwestern United States — especially in non-major league cities. Now, the golf-crazy men and women of
North Dakota
(and nearby Minnesotans) are undertaking an effort to bring a USGA championship to
Fargo Country Club
— and already, the Fargo-Moorhead Athletic Commission and the Convention & Visitors Bureau are pitching in. It is a big enough story that even
USA Today
took notice.
Ironically, this all started in 1998, when the famous
Riviera Country Club
was awarded the U.S. Senior Open. Even though the Los Angeles metropolitan area has over 12.8 million residents, the USGA and Riviera only managed to sell about 10,000 tickets — a disaster. The very next year, the U.S. Senior Open went to
Des Moines Golf & Country Club
. Not only was the tournament sold out, but even the practice rounds sold out — a total of 250,000 tickets for the entire week. As a direct result, the Des Moines area now has an annual event on the Champions Tour — and DMGCC will host the 2015 Solheim Cup matches.
Since 1999, the USGA has also brought the men's Senior Open and the Women's Open to the very notable
Prairie Dunes
in Hutchinson, Kansas. Last summer, the Senior Open went to
Omaha Country Club
and drew the second-largest attendance in Senior Open history.
Some F-M area people want to see a U.S. Senior Open, while others prefer a U.S. Women's Open — in no small part to cheer on North Dakota native and 2009 U.S. Girls' Junior champion
Amy Anderson
, who now plays on the LPGA Tour.
Whatever event Fargo CC might earn, efforts and plans for a redesign of the course are already in the works. Minnesota native Tom Lehman, the 1996 Open Championship winner and burgeoning architect, has already submitted blueprints for a redesign that would include flood-proofing the course. Flooding affects the course every few years, most dramatically in
1997
and in
2009
. Fargo CC head professional Mark Johnson says that, between a possible redesign by a big-name golfer like Lehman, a booming local economy, and the ridiculously high percentage of golfers in North Dakota, the effort could be worth it:
"Certainly, to have Tom Lehman's name attached to a facility, that validates a golf course and gives it instant credibility.

"Is it possible to have a world-class caliber golf course here on this site, and the answer so far is yes. Now, do we want to do something with the renovation? That's still up in the air."
Johnson expects that the club will need to prove to the USGA that the course will be guaranteed dry at tournament time. But the club has already hosted a USGA Boys' Junior Championship, while the course is ranked fifth-best overall in the state — and the best private course. A redesign is only likely to boost Fargo CC's reputation and ranking.
The Fargo-Moorhead metropolitan area has more than 223,000 residents and at least 54 hotels, while
Hector International Airport
has undergone several terminal expansions in the last few years, along with a 9,000-foot runway capable of accommodating Boeing 747s. Clearly, enough infrastructure and a strong regional corporate base exists that the USGA may well be compelled to consider Fargo-Moorhead for one of their national championships.
No doubt, North Dakotans (and nearby Minnesotans) want this very much; it will be very interesting to see if they can make that happen.
Read more
Read an interesting golf article? Tip Your Editor!
Image via WDAY-TV
ally1957 says:
Good luck to them. There's too much of "Well its always played here" If the infrastructure there and the parking. (something they don't consider here in the UK)I always say The PGA both US and Euro are very choosy on where they let they elite play (they don't want too many pro's with red faces)
5/21/14
Salman86 says:
Hey thanks for sharing impressive article It is really feel like computer window it has surprise a number
search my computer windows 10
of feature. a must have anyone who want to have a batter work up easily.
7/22/19