2014 U.S. Open, Round 1 Review

Pinehurst, North Carolina did not receive the anticipated rain the National Weather Service forecasted for Wednesday night, so United States Golf Association executive director Mike Davis and his staff wisely decided to water some of the greens early this morning. And with that, the 114th United States Open Championship began at 6:45 a.m. EDT with sectional qualifier Daniel Berger hitting the opening tee-shot.
The Big Names
Phil Mickelson
After his opening-round 70, the 11th-ranked golfer in the world told ESPN's Tom Rinaldi that he played well, particularly with his driver, but gave away a few putts that would have given him an advantage.
Interestingly, Rinaldi gave Mickelson the breaking news that he has been formally cleared of any wrongdoing in the federal investigation into insider trading of Clorox Company stock by Carl Icahn. Rinaldi asked for a reaction, to which Mickelson very appropriately said he didn't feel he should comment in detail, given that the investigation is ongoing and that he wants to assist in any way, and not jeopardize it.
Henrik Stenson
The number-two player in the world had a see-saw day around Pinehurst; he thoroughly punctuated the 11 pars on his scorecard this way: Bogey, birdie, bogey, birdie, birdie, bogey, and a birdie at the last. The Swede currently sits one shot off the lead with a 69, certainly in fine shape for the second round and the 36-hole cut.
Graeme McDowell
The 2010 U.S. Open champion has been around the block a few times and decided that a conservative approach was the right one. After a mis-step at the 497-yard par-4 4th, G-Mac got it back with a magnificent eagle at the 528-yard 5th. He then coaxed a birdie in at the 14th, getting him into the scorer's tent with a 68 — good for a T-2 going into Friday's second round.
Jordan Spieth
Despite bogeys at the 2nd, the cruel 9th, and the long par-3 15th, Spieth said he genuinely enjoyed Thursday's round. He should have; a 69 on any U.S. Open course is to be admired and savored. But he also said he enjoyed being grouped with Rickie Fowler and Hideki Matsuyama. That the 20-year-old Texan is so comfortable and mature out on the course is genuinely remarkable. Whether or not he can repeat the strong performance he turned in at the Masters (T-2) has yet to be determined, but it would be foolish to bet against him.
Rickie Fowler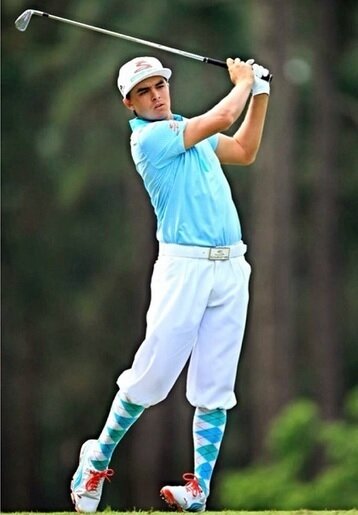 One of the 10th-tee starters, Fowler said he was happy to open with ten straight pars, despite a couple of "sloppy bogeys" at the end. But Fowler's bogey save at 9 was awfully impressive; his tee-shot plugged into an upslope on the front face of a left bunker. ESPN's Dottie Pepper predicted that the shot would pop out and roll to about nine or ten feet beyond the hole — which is precisely what Fowler did — beautifully.
He also did a nice fashion turn on Thursday, wearing plus-fours in honor and memory of the late Payne Stewart. The only stumble was that he wore athletic-style golf shoes instead of a traditional shoe. "It's just my way of recognizing Payne," Fowler said.
Martin Kaymer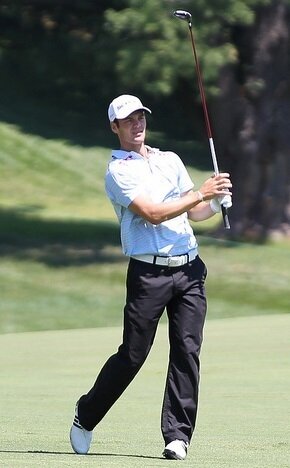 The 2010 PGA Champion had a 1:47 p.m. start time with 2013 PGA champion Jason Dufner and 2011 PGA champion Keegan Bradley. And the six-foot German stood taller than anybody else at Pinehurst on Thursday.
While other big-name golfers found the #2 course treacherous and taxing, only a bogey at the 427-yard 7th hole stained Kaymer's scorecard. Indeed, he felt so comfortable that he torched holes 10, 14, 16, and 17 for birdies on his way to a 65 and a three-shot lead over G-Mac, Kevin Na, Brendon De Jong, and 49-year-old Fran Quinn of Massachusetts.
Kaymer's contract shoe and clothing company dug out this cute little factoid:
The Unexpected
Will Grimmer (a)
Shooting a 77 on a 7,500-yard course under U.S. Open conditions would not normally be notable enough to draw media coverage, but 17-year-old Will Grimmer of Cincinnati is a different story. On July 10, 2013, the kid played in the second round of the prestigious North & South Amateur Championship at Pinehurst's #1 course — and
shot a dazzling 59
.
On Thursday, Grimmer managed only three pars on #2 Thursday. Sure, he had eight bogeys and two doubles, but one of the five birdies he reeled off is worth seeing in the highlights. Commentator (and 1993 PGA champion) Paul Azinger was left nearly speechless by Grimmer's 59 last year:
The Coverage
Generally, the reportage has been just fine, although several members of the Twitterverse had these popular viewpoints:
In the words of TV pitchmen everywhere... "But wait! There's more!"
USGA live scoreboard
Read an interesting golf story? Tip Your Editor!
Images via USGA, Instagram, Flickr
no comments posted yet.