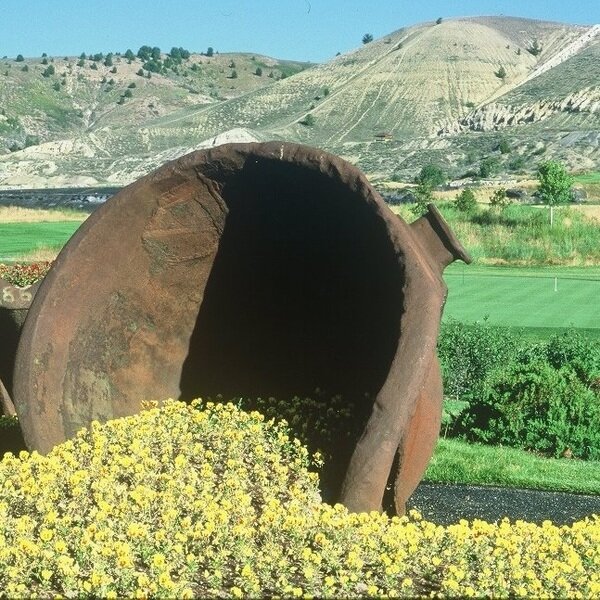 This is especially unwelcome news:
Old Works Golf Club
, a Jack Nicklaus design that is widely held as the best public-access course in Montana, is in danger of closing permanently.
As
reported by the Montana Standard
, the course's governing board is caught in a tough financial bind caused by a dragged-out legal settlement case between Atlantic Richfield Company (ARCO) and BP plc, formerly known as British Petroleum.
Old Works debuted in 1997 and was built over a former Atlantic Richfield smelting facility that operated between 1884 and 1902 near the town of Anaconda. When smelting operations there stopped, the structures, flue foundations, and a tremendous amount of tailings were left behind.
In lieu of a Superfund cleanup operation, Atlantic Richfield had Nicklaus and his design firm build the golf course built over the site as a cap. The lake bottoms, greens, bunkers, and grounds surrounding transplanted trees were all lined with a special protective layer designed to keep the hazardous materials from leeching to the surface.

In addition to the historic ruins of two original smelters, the bunkers feature black slag instead of the usual sand. Warm Springs Creek, previously used in the smelting operation but is now home to a large population of trout, is in play several times. The mountain views from the course are, of course, extremely popular and picturesque:

The back-and-forth between county officials and ARCO sounds ominous, indeed. Destruction of the course would be followed by site cleanup operations, but most people in the area are hoping that the course remains open. That includes Anaconda-Deer Lodge County Chief Executive Connie Ternes-Daniels:
"The loss of that course would be devastating for everybody. It would be a huge economic impact if something were to happen to the course. The Old Works Golf Course is the flagship of remediation in Anaconda-Deer Lodge County. It needs to remain as such. It's the duty of EPA, ARCO and us to make sure it does continue."
Old Works is also one of the biggest drivers of tourism in Anaconda, in no small part because the fees and annual passes are surprisingly affordable. And the critical acclaim for the course was tremendously strong when it opened in 1997 — and has remained strong ever since.
Your humble correspondent has had Old Works on his "golf bucket list" for 15 years, while thousands of golf enthusiasts have already had the pleasure of playing this very unique course — one of the few Nicklaus designs open to the public.
Have you seen an interesting golf story? Tell us about it!
Images via Old Works Golf Club
nagar28496 says:
Window 10 has replaced my desktop,window 10 in my laptop,and give new upgrade,i am very happy give this information,
my computer desktop windows 10
how do i get my computer in windows 10,millions people users this panel,i hope you update this version.
11/25/17
mmelodyppratt says:
I cannot express how much I love the views and how much I would like to play there. Can I post some of the images at
researchpaperonline.net.
4/12/18
funnyjokes says:
Oh! This article has suggested to me many new ideas. I will embark on doing it. Hope you can continue to contribute your talents in this area. Thank you.
instagram quotes
4/18/18
EllenTamez says:
It is really a bad news for environment lovers like me. I visited the place many times and it is our favorite hang-out every summer. We are really feeling sad by reading the news in
ninjaessays
writing services. What are these environment activist doing?, I will come forward to raise my voice against removing the park, come join with me.
8 hours ago