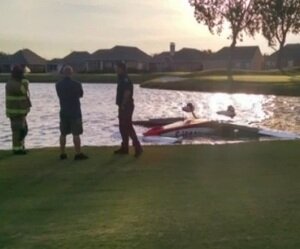 On Monday, the pilot of a single-engine Piper Sport aircraft declared an in-flight emergency due to engine trouble and was attempting an emergency landing on Runway 33 at
Addison Airport
in Plano, Texas. However, the aircraft did not have enough power to make it to the runway — not even to reach the closer Air Park-Dallas Airport. Instead, the pilot ended up belly-landing in the pond along the 2nd hole of the Hills Course, one of two belonging to
Prestonwood Country Club
.
We are happy to tell you that the pilot, an experienced flight instructor, was able to escape his aircraft and swim to safety, unhurt. Investigators from the Federal Aviation Administration and/or the National Transportation Safety Board are expected to be at the crash site Tuesday morning.
Have you seen an interesting golf video? Tell us about it!
no comments posted yet.