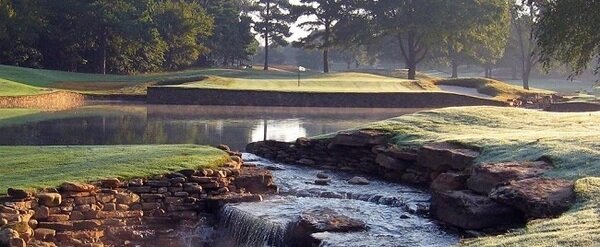 Pop music star Justin Timberlake and his family have sold
Mirimichi Golf Club
in Millington, Tennessee to Memphis-area businessman Fred Edmaiston, CEO of Memphis-based Aircon Corp. The sale price is reported to be around $500,000.
According
to Ryan Poe of
Memphis Business Journal
, Edmaiston is a current member at Mirimichi and was on the practice range there when he first discussed buying the course.
Timberlake bought what was then known as Big Creek Golf Course outside Memphis for around $880,000 back in 2007. The music star then spilled approximately $1.2 million for properties surrounding the golf course, then invested some $16 million for renovations that included water features and various environmentally-friendly improvements. In fact, the Audubon Society named Mirimichi as their first "Audubon Classic Sanctuary" in the United States. It is also the first in the Western Hemisphere to be designated as Golf Environment Organization Certified.
Timberlake is well-known as a serious golf enthusiast and in his younger days played the course, which was previously known as Woodstock Hills Country Club and then later as Big Creek GC. Given the numbers, Timberlake clearly bought Mirimichi as a labor of love, rather than as a business investment.
Amos Maki of the
Memphis Daily News
reports
that Edmaiston will scrap the private membership structure and turn it into a destination course, adding a few tee-boxes in order to accommodate higher-handicap players.
Also among the investors in Edmaiston's group is PGA Master Professional Bill Munguia. Maki also reports that Timberlake has allowed the new owners to continue associating his name with Mirimichi.
Have you seen an interesting golf story? Tell us about it!
Image via Twitter, Mirimichi Golf Club