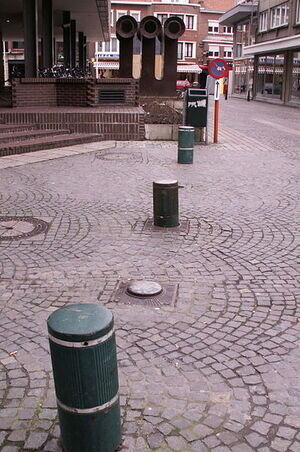 Our story begins with 60-year-old Debra Jean Haehn and her husband, 69-year-old Dennis Raymond Haehn, from Box Elder, South Dakota. According to Augusta Chronicle staff writer Doug Stutsman, the Haehns
decided to trespass
onto
Augusta National Golf Club
at the famous Washington Road gate on October 13. Mrs. Haehn then blocked traffic in the right-most lane of Washington Road while Mr. Haehn started snapping off pictures of Magnolia Lane and the gate.
At one point, either a club security officer or a Richmond County Sherriff apparently had to stop him from walking backward into traffic on Washington Road, preventing what could have been a case of "pedestrian Darwinism."
At any rate, the Haehns are now formally banned from ANGC property, but Mr. Haehn has still made noises about pressing charges against the officer. ANGC officials and staff, true to their usual low-key form, declined to press charges against the two miscreants.
Fast-forward to this week, when Augusta National completed installation of retractable "
bollards
" at the
Magnolia Lane entrance
. Five retractable posts (presumably crash-resistant) are controlled by the club's security guards. The club deployed a large green screen (what other color could it have been?!) during construction.
(
A retractable bollard from the UK is illustrated at right.
)
While the October incident of the two behaviorally-challenged South Dakotans may have precipitated the change, we would be surprised if Augusta National Golf Club officials and staff did not take notice of the September incident in which 23-year-old
Austin Christopher
did tens of thousands of dollars in damage to two golf courses in the Buffalo-Niagara region.
Some of you might be wondering why the club did not install a one-way spike strip; we suspect that it would have visually detracted from the view of Magnolia Lane, whereas the retractable bollards would be less visually intrusive.
But if you look more closely at the picture, you can see two similar black bollards further down Magnolia Lane. We would not be surprised if the club deployed a one-way tire-shredder or some other quick-action traffic barrier at that point.
Woe be to the sub-90-IQ person who would try to test these devices with his/her car.
Have you seen an interesting golf story? Tell us about it!
Image via Wikipedia
H-T: Geoff Shackelford
Juara90 says:
It has the best word and that too based on bollard content. That everything has been issued for the
essayontime com au
website users. So, all people will get the content values and reviews.
10/17/19