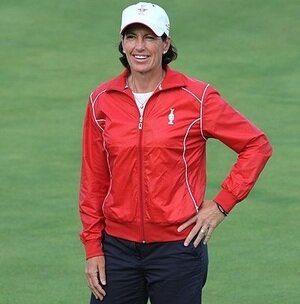 Juli Inkster has nothing more to prove to the world. And yet, she is taking on two new challenges in 2015.
As
reported
by
Golf Channel
's Randall Mell, the seven-time major champion and World Golf Hall of Fame member will join Fox Sports as a commentator for their televised coverage of USGA championships in 2015, including (of course) the men's U.S. Open at
Chambers Bay
, outside Tacoma, Washington.
Inkster told Mell the following:
"It's new for me, and it's going to be refreshing. I'm really, really excited about the Solheim Cup and doing TV, I want to be good at it. I've only done five events for Golf Channel and I've never done a men's event. So, I feel like I've got a lot to learn. The good thing is that everyone is going to be new at Fox."
What is interesting is that Inkster already has duties as captain of the 2015 U.S.
Solheim Cup
team at
Sankt Leon-Rot
in Germany in September.
On top of that, Inkster still plays to play about 12 LPGA tournaments next year.
Have you seen an interesting golf story? Tell us about it!
Image via Wikipedia
no comments posted yet.