This classically-trained musician (cello, double-bass, six-string "
contrabass
" guitar) can tell you that the effect that music can have on individuals is pretty well beyond any other form of fine art — both good
and
bad. But according to researchers led by Timothy Baghurst, PhD at Oklahoma State University, your choice of music can make a big difference, should you choose to practice putting to music.
Explaining things here (a little bit, anyway) is Ali Boolani, an assistant professor at Clarkson University:
Dr. Baghurst and his team test 22 golfers (eight men and 14 women) from two NCAA Division I golf programs in the midwestern United States. The available styles of music in the test included classical, country, jazz, rock, and hip-hop / rap, as well as without music. The results might surprise you: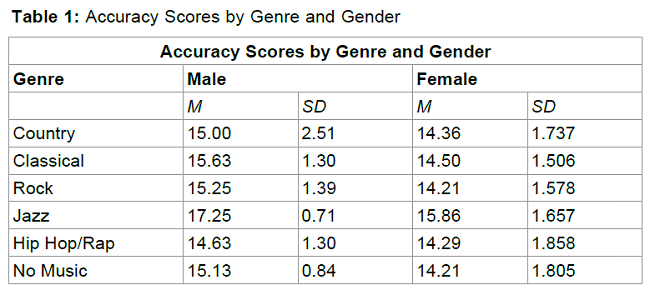 Participants listening to jazz scored higher than any other genre. Hilariously, practicing with no music produced better results than listening to
rock music
. Not surprisingly, the men fared worse when listening to hip-hop and rap. Also noteworthy (
no pun intended
) is that the researchers decided not to learn the preferences of each participant.
But this musician and writer wishes to point out the specific music or artists the researcher chose within each genre:
Classical: Beethoven Symphony No. 5


Country: Lady Antebellum, Little Big Town, Jason Aldean


Jazz: Louis Armstrong, Sade, Norah Jones


Rock: Shinedown, 3 Doors Down, Paramore


Hip-hop / Rap: Usher, Eminem, Lil' Wayne
The report summary (PDF)
makes for some interesting reading, but leaves out several critical details:
Classical music
The report does not explain whether or not Beethoven's fifth symphony was the only classical selection used — or even which movements! The famous
opening movement
is particularly powerful, but it is in a minor key — and with particular angst. How would the golfers have done with the
opening movement of Beethoven 6
? How would they do with msuic in 3/4 or 6/8 time signatures, versus just 4/4?
How well would the golfers have putted while listening to something less weighty, such as Mozart's
Flute Concerto No. 1
, which is in a major key? Or Mozart's otherworldly
Ave verum corpus
? For good measure, the "putting music" should also include some piano music by Frédéric Chopin
and
some of the
Nocturnes
by the Irish composer John Field.
And just for really good measure, I would love to see how they would do with Stravinsky's "
The Rite of Spring
!"
Jazz
First off, Norah Jones is considered more pop than jazz, no matter how organic her records may be. And
Sade??!!
Seriously? She fits squarely into pop and "smooth jazz" — not traditional or modern jazz! As far as Louis Armstrong goes, the styles and sub-genres within his discography vary rather markedly. If the researchers chose just "What a Wonderful World," then they blew it because that's pop — not real jazz.
How would the participants have putted to "
So What
" from the seminal Miles Davis album
Kind of Blue
? For that matter, how would they have putted to Larry Carlton's
double-time reading of "So What"
?
How much worse would the participants have putted while listening to "
YYZ
" by Rush, or even some
brain-bending fusion
by the pioneering group Weather Report?
Would the participants have stormed off the putting green in a rage if they were subjected to "Every Rose Has Its Thorn" by Poison? Would they putt better while listening to a
smooth jazz version of "Enter Sandman"
by Metallica?
Dr. Baghurst
did
said that the sample of 22 golfers was a bit small and that their conclusion was that further research would be nice. This writer agrees — but next time, include some experienced musicians (like this writer) who can "drill down" further into the musical genres that actually work?
Study summary
(PDF)
Have you seen an interesting golf story? Tell us about it!
mmelodyppratt says:
Did you try to exercise in silence? It is almost impossible, because the music simultaneously relaxes and concentrates, soothes and invigorates.
Buy essays cheap
to know which music suit's your sports choice.
4/10/18
Victorholmes says:
This is very interesting and first time I am listening about it. To improve putt music can be a good solution for it. Few days back I have read an article from
writers per hour review
blog in that one expert has said that meditation can help you to keep focus on the game and can improve putt also.
5/7/18