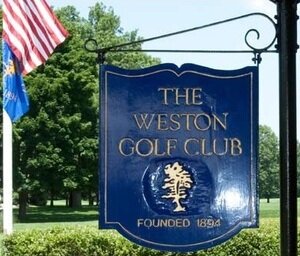 As president of
Weston Golf Club
in Massachusetts, Tom Ferry saw it as part of his duties to enforce
the club's dress code
, which clearly states that denim attire of any kind is not acceptable in the clubhouse, the golf course, or anywhere on club grounds.
This should not be surprising; the very exclusive club has a $45,000 initiation fee — as well as a Donald Ross-designed course. But what happened on a Saturday night in September makes Weston Golf Club look like a bizarre cross between
Caddyshack
and the
Jerry Springer Show
. (Assuming that show is even still on the air.)
According to the
Boston Globe
, Stephen and Charlotte Weeple are not club members, but were meeting friends in the clubhouse bar for drinks. Ferry stepped in to inform them of the club's no-denim rule. Callum Borchers of the
Globe
takes it from there
:
Ferry believed the Weeples were in violation of the dress code and used profane language to tell them jeans are not allowed on the grounds, according to a letter the couple wrote to the club's directors.

Charlotte Weeple declined to comment, but in her letter to the board, obtained by The Boston Globe, she said she thought Ferry was joking until he called her derogatory names, igniting an animated shouting match between her husband and Ferry.

At 10:58, Weston police received a 911 call reporting a fist fight in progress.

"When I arrived, I observed two men... engaged in a loud, verbal argument," patrolman Joseph Kozowyk wrote in his report, noting that "neither man had any signs of a physical altercation."

The incident broke up when the Weeples left Weston GC without joining their friends inside.

Afterward, though, Charlotte Weeple complained to the club's directors about her treatment and insisted that neither she nor her husband was wearing jeans. Moreover, Weeple bristled at the implication she did not know the rules of proper attire.

"Having grown up and spent much of my life in golf clubs around Scotland and officers' clubs in the military, I am fully aware and respectful of dress code and etiquette," Weeple wrote.
It later developed that several club members were also in denim that evening.
Apparently, club directors convened
a kangaroo court
an investigative panel to uncover all of the details of this conducted an investigation into this horrific violation of country club decorum and comportment. Eventually, the directors suspended ten members for a period of three months.
Ferry has since resigned from his post as club president.
At least it didn't turn out like your average "basketbrawl":
Have you seen an interesting golf story? Tell us about it!
Image via Weston Golf Club
H-T: Luke Kerr-Dineen
himanshuarya says:
Really an wonderful article must read it and visit here to
play online euchre
card game it is really an one of the most popular and challenging game the goal of the game is to take more hands than your challenger you should have to play euchre once.
1/16/18
Talon23 says:
Here, it is telling about college students to understand their values. Then people will follow the
best custom essay service
story to help every news reader with the following steps.
4/28/18
rosesandra says:
Here, it is advising about undergrads to comprehend their qualities. At that point individuals will take after the best
research paper writing
story to help each news peruser with the accompanying advances.
6/11/18
aliyaaa says:
I found many interesting things in your blog, especially its discussion. From tons of comments on your articles, I think
Bangalore Escorts
that I am not the only one who is enjoying all over here! keep doing good work...
3/16/19
aliyaaa says:
I love examining your articles, your
Delhi Escorts
articles gives a learning see with respect to the issue in any case disclosed to me why you all
Escorts in Delhi
things considered frame on flawed centers, in any case a superior than normal article to investigate and share
Delhi Escorts
Dubai Escorts Service
3/16/19