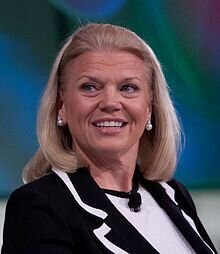 According to several reports, including one by
ESPN's Bob Harig
, IBM Chief Executive Officer Virginia Rometty has become the third female member of Augusta National Golf Club.
Neither IBM nor the club have officially confirmed the move, but given her status and position as a captain of industry, this is not completely unexpected. In fact, some golf writers predicted Rometty joining ANGC even before the club announced that former U.S. Secretary of State Dr. Condoleeza Rice and investment firm chief Darla Moore had accepted invitations to join.
Several sources indicate that Rometty is not necessarily a deep golf enthusiast; she reportedly carries a USGA index of 35.4 at two clubs,
Golf Club of Purchase
(near IBM headquarters outside NYC) and
Shadow Wood CC
in Florida.
Rometty continues the long-standing practice of Augusta National having the CEO of IBM as a member. She graduated with honors from Northwestern University in 1979 with an B.S. in computer science and electrical engineering. After a two-year stint at General Motors, Rometty joined IBM as a systems engineer and helped drive the company's involvement in cloud computing and business analytics.
Several magazines have included Rometty in their various lists of important and influential people in business. For example,
Forbes
magazine ranked her 10th on their list of the "World's 100 Most Powerful Women" earlier this year. She became IBM's CEO in 2011, succeeding Sam Palmisano. His description of Rometty's ascension to that post is pretty typical of her career:
"Ginni got it because she deserved it... It's got zero to do with progressive social policies."
As it should be.
For decades, countless thousands of business owners, executives, and managers often use golf as a vehicle to explore and pursue new opportunities and agreements. So now, Rometty has the opportunity to do the same as a member of a highly desirable and oft-coveted private club.
Have you seen an interesting golf story? Tell us about it!
Image via Wikipedia
Watson54 says:
The Augusta National Golf Club has become a very significant golf club in the country because Rometty has also joined this club and serving nicely. Click on
topicsmill.com
site to read topics about philosophy essays. I hope this golf club will become country's best club in near future due to the persons like Rometty who are extremely talented.
2/6/20