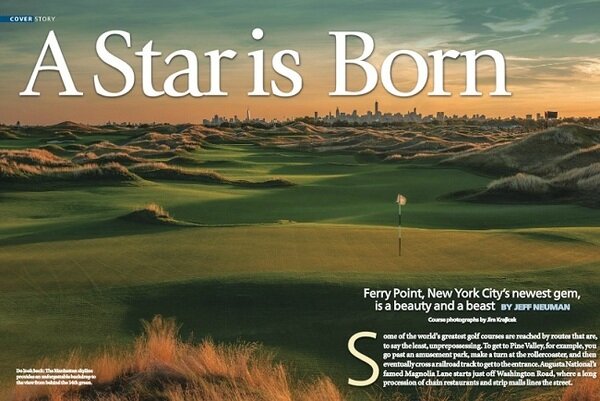 Your humble correspondent would love to be a traveling correspondent, playing all the new and renovated courses everywhere. But alas, that's not in the company budget.
Fortunately for us, some New York City-area residents are members of the
Metropolitan Golf Association
— and have relatively deep pockets. Recently, they had writer Jeff Neuman and
ace photographer Jim Krajicek
go out to
Trump Golf Links at Ferry Point
for a
preview of the course
, which will open on April 1, 2015.
Neuman also provides the fascinating (and occasionally jaw-dropping) background behind the development of this course, which goes back to 1975. And when you read about the bureaucratic wrangling behind the scenes, you will understand why it has taken 40 years for the brainchild of banker Jack Farber to come to fruition.
Now, if I could
just
scrounge up a few thousand dollars for airfare, hotel, green fees, transportation... and maybe some Rangers and New York Philharmonic tickets along the way...
Have you seen an interesting golf story? Tell us about it!
Image via Metropolitan Golf Association
no comments posted yet.