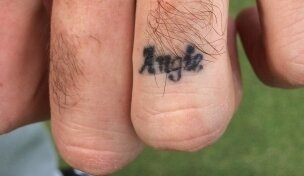 Couples who celebrate wedding anniversarys sometimes take a vacation, or just go out to dinner. But not Bubba Watson.
He got a tattoo.
As Jason Sobel hilariously
explains
:
Watson explained that although he owns two wedding bands, he doesn't like the feeling of wearing one while playing golf, so he got a tattoo of his wife's name, Angie, on his left ring finger.

"I was like, 'I'm going to get a tattoo,'" he said. "She's like, 'No you're not.' So I did. It was a $60 anniversary present."
Watson followed up with the overriding reason: "I think tattoos are cool when I see them on other people, but I don't personally like tattoos. But this is about my wife and showing her I care about her," he said.
We certainly wish Bubba and Angie Watson a long and happy marriage. Just don't ask us to get a tattoo of our own.
Have you seen an interesting golf story? Tell us about it!
Image via Jason Sobel
ahmedraza1001 says:
This is very useful, although it will be important to help simply click that web page link:
카지노사이트
11/5/19
ahmedraza1001 says:
Thanks for writing such a good article, I stumbled onto your blog and read a few post. I like your style of writing...
사설토토
Sunday