Tiger talks about the El Cardonal design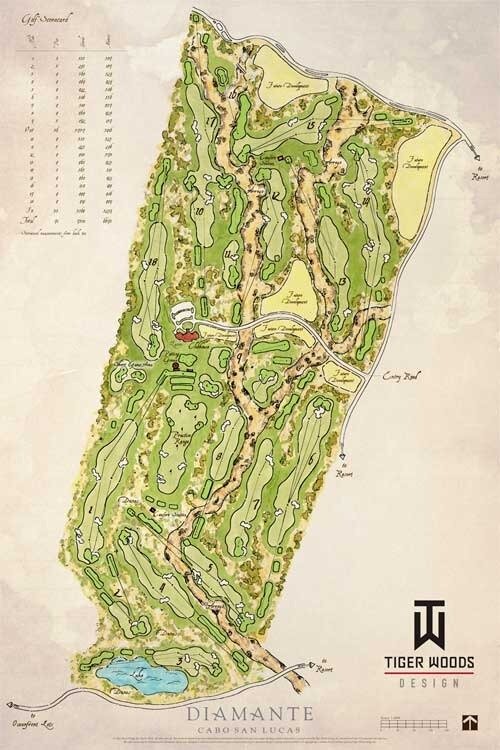 Earlier this week, Tiger Woods unveiled his first golf course design when
El Cardonal opened
at the private
Diamante Cabo San Lucas Club
in Mexico. ESPN caught up with Tiger to get some "inside scoop" on his design:
As much as Tiger enjoyed having his first design finally open, he told ESPN's Bob Harig that he isn't losing focus:
"I'm not going to design that many golf courses like Jack did. That's not my intent. I'm only going to do a few at a time. I'm still in the peak of my playing years and I'm still concentrating on winning golf tournaments and winning major championships.

"I just don't have the time, with family, to try and do all that and try and design 15 courses around the world. I want to do a couple here and a couple there and give them my entire input and time."
Whatever the case, Woods is not finished working at Diamante; owner Ken Jowdy has retained Woods to design a third 18 and a separate short course at the club.
"It's an endorsement when you want to continue working with him and you realize what he has brought to us. You just have to look to our members and see the excitement he has brought to this. I don't think anyone else can move the needle like he has for us. For whatever reason, Tiger brings it to another level."
Good for everyone involved.
Have you seen an interesting golf video? Tell us about it!
[ comments ]
max.rashwin says:
I Only recommended this Online institute for the people or users who wants to know how to save Passwords in Microsoft edge web browser.Go with this website homepage and
microsoft edge password manager
and catch the every important fact to learn and share.
6/14/18
divyavinash18 says:
here we are providing the
latest govt job
10/27/18
bullet890 says:
Thank you very much for keeping this information.
bullet force
1/8/19
lao81471 says:
Many people are interested in receiving the best articles on tiger talks. The El cardonal designs we used to place
rush essay review
club sports articles. That all have been chosen to understand their daily links.
7/17/19
RobertSharph says:
You're my end and my beginning
Even when I lose I'm winning
'Cause I give you all, all of me
And you give me all, all of you
io game
10/18/19
photoshoponline88@gmail.com says:
I am in need of this information for work, thank you very much for your information.
wuxiaworld
11/11/19
[ post comment ]