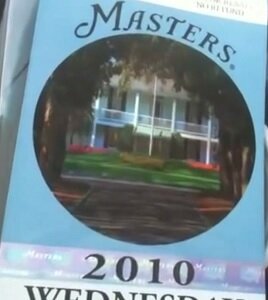 John Boyette of the
Augusta Chronicle
reports
that the cost of a patron badge for the 2015 Masters Tournament has jumped from $250 to $325. This is the first price increase since 2012, when the badges skyrocketed from $50 to $250.
The Augusta National Golf Club informed tournament patrons of the increase just before New Year's and explained that renewals must be purchased not later than January 31. Patrons who forego the renewal will forfeit their ticket allocations.
The club's Masters badge waiting list began in 1972, then closed in 1978, although the club briefly re-opened the waiting list in 2000.
Read an interesting golf article? Tell us about it!
Image via YouTube

mustang6560 says:
I am still waiting to win tickets through the Masters lottery...
1/5/15

bkuehn1952 says:
The $325 covers the entire week, does it not? I could see spending a significant amount to see Augusta once but certainly not every year. Frankly, I would prefer to play several rounds at a nice muni with the $325 rather than stand around at Augusta but I understand that others
1/6/15

mustang6560 says:
Did you mean to leave us hanging mid thought?
1/6/15

bkuehn1952 says:
... like the tradition of hanging out at the Masters.
1/6/15