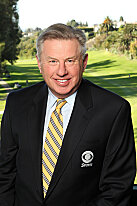 Peter Oosterhuis, a fine English gentleman and certainly a most notable golfer,
announced his retirement
from his broadcasting career on Friday. The London native began his work in 1995 as the lead television analyst for Golf Channel's coverage of the European Tour. While staying with Golf Channel, Oosterhuis also joined CBS Sports in 1997 as an analyst for their coverage of the Masters Tournament and the PGA Championship.
The PGA Tour's Helen Ross passed along these comments from Oosterhuis late Friday:
"Golf has been a big part of my life ever since I was a little boy growing up in England and I thank CBS and Golf Channel for allowing me to continue in the sport after my playing days were over. I feel it is the right time to step away to focus on things in life that I have always wanted to do."
Mr. Oosterhuis certainly has earned it. By all means, sir, enjoy your *actual* retirement — and know that we fans of golf on television will be happy to see you again anytime.
Have you seen an interesting golf story? Tell us about it!
Hat-tip: Helen Ross
sempi1 says:
Will miss Mr Oosterhuis, has made golf coverage a pleasure for me, happy retirement an hope to see him on golf channel from time to time.
1/25/15
anke99 says:
Just remember this technique wqhich is based how it will be possible for you
remote desktop windows 10 pc
and which require is needed in the online system if we try this with the help of desktop connection.
4/22/19