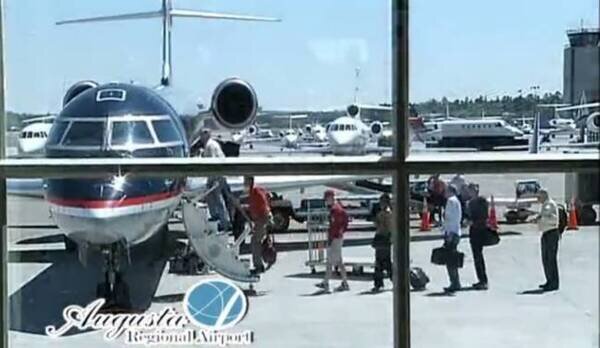 Atlanta's international airport
may be the busiest in the world, but during Masters Week,
Augusta Regional Airport
will get crazy-busy, hosting as many as 3,000 take-offs and landings.
Each year, increasing numbers of Masters patrons have chosen to fly into the airport, which was previously known as Bush Field (ICAO: KAGS) and lies 12 miles south of Augusta National Golf Club. But Augusta Regional is expected to be so busy during Masters Week that airport directors will actually close two taxiways and use them for parking. Meg Mirshak of the
Augusta Chronicle
reports
that director of aviation services Ken Hinkle said that Augusta Regional will be able to park some 200 birds there at one time. But unlike last year, aircraft will be parked on a first-come, first-served basis.
Augusta Regional is hardly alone in working to accommodate air traffic during the Masters Tournament; Mirshak reports that this new plan includes coordinated efforts at Daniel Field (a few miles south of Augusta National Golf Club), Thomson-McDuffie County Airport (30 miles to the west), and Aiken Municipal Airport (27 miles to the east in South Carolina).
This is an intelligent decision, since Augusta Regional had 2,034 aircraft movements during Masters Week last year. This year, Hinkle is predicting some 3,000 landings and take-offs during the week.
The aircraft parking space crunch is so bad that administrators and consultants have been working on
a new 20-year master plan
that is expected to be finalized this spring. Part of the plan involves expanding that badly-needed aircraft parking area.
Augusta Regional Airport somehow makes do with a 1,411-acre parcel of land, compared to Hartsfield-Jackson Atlanta International, which is shoehorned into 4,700 acres and has no more room to expand. In contrast, Denver International Airport covers almost 34,000 acres — 53 square miles. That is nearly twice the size of the island of Manhattan.
And yet, the airport is financially self-sufficient, requiring no taxpayer dollars to maintain and conduct operations. Delta Airlines serves Augusta on a regular basis from Atlanta, but during Masters Week the airline deploys larger commercial aircraft, including Boeing 737s and 757s, to transport tournament patrons. Thankfully, Augusta Regional has an 8,000-foot north-south runway to accommodate those jets, as well as a 6,000-foot east-west runway.
In comparison, the longest runway at Chicago Midway International Airport (30th-busiest in the United States) is 6,522 feet.
So you can probably imagine the intense work that airport director Ken Hinkle has. Hinkle himself described it vividly to the
Chronicle
:
"We're unique because we're like seven Super Bowls on seven days. We're trying to manage a fluid operation for seven days."
And in the midst of all that aviation, vehicular, restaurant, and hotel traffic lies that idyllic place most golfers would gladly pay a dear price to play:
Augusta National Golf Club
.
To say that Augusta Regional Airport is an important and successful part of the city's economy and essential to patrons during Masters Week is a gross understatement.
Have you seen an interesting golf story? Tell us about it!
Image via YouTube
Hat-tip: John Strege
davidjohn0 says:
I might want to know whether you have any insights about the best PDF altering site. I know it's
se.altosplitpdf.com
, however I simply need more subtleties of this site. Help a sibling out, it would be ideal if you
3/29/20
hafsasaeed says:
The toppers list may be declared after the Karnataka PUC 2020 Result are announced, students may check it, usually it is the top ranks from the 1st to 10th or like 1st, 2nd or 3rd ranks, and if students want information about the scholarship schemes from central or state government after qualifying the Karnataka PUC they can ask the information through comments or email or any other doubt regarding this like Answer Key, Cut off Marks etc, and may get reply based on the question and the priority.
Karnataka 2nd PUC Commerce Result 2020
Stay tuned with us to stay updated, more information may be updated here time to time.
Thursday