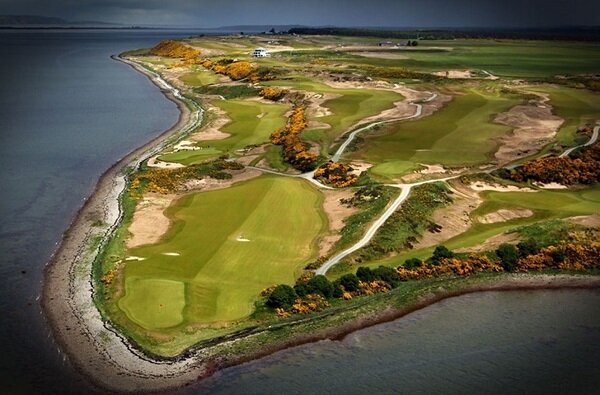 The gorgeous existing course at Castle Stuart was co-designed between
the American architect Gil Hanse and owner Mark Parsinen.
Parsinen has retained Arnold Palmer to design the second course there.
In a Thursday afternoon interview with Golf Channel's Rich Lerner and Frank Nobilo, the 85-year-old (!) Palmer announced that he and his staff will design a second golf course at
Castle Stuart
, located on the Moray Firth in the Highlands district, not far from Inverness. Amazingly, this will be Palmer's
first-ever
course design in Scotland.
Castle Stuart is already known for one scenic and attractive course, which was designed by the American golf architect Gil Hanse and Castle Stuart owner Mark Parsinen. That course debuted in 2009, then hosted the Scottish Open in 2011 (Luke Donald), 2012 (Jeev Milkha Singh), and 2013 (Phil Mickelson). The Scottish Open is among the most important events on the European Tour, and in 2016 will again be played at Castle Stuart's current layout:
Plans for the second course are expected to be finalized and submitted within in the next two months. Construction is anticipated to begin early in 2016, with an opening sometime in 2019.
Parsinen was quoted by the Glasgow-based newspaper
The Herald
:
"We have been in discussion for more than a year now with the Arnold Palmer Group and we are delighted that it has joined the partnership at Castle Stuart Golf Links.

"We are working with his design team on the routing of the new course with a view to beginning construction this time next year. The new course will be similar in length to the existing 7,193-yard links and will feature spectacular views across the Moray Firth, as well as the 17th Century castle which gives the course its name."
Palmer and members of his design firm are expected to visit Castle Stuart in July, just prior to the Open Championship at Saint Andrews. Palmer's two design associates, Brandon Johnson and Thad Layton, recently returned from two weeks at the site;
GolfWeek
architecture writer Bradley S. Klein reports that they finalized most of the course routing during that time. Johnson and Layton are expected to be in charge of most of the on-site work.
According to Klein, Palmer and his team have designed or redesigned a total of 306 course in 37 of the United States and in 25 different nations spanning five continents.
As with the first course, Parsinen will again be co-designing the course. He also told
GolfWeek
that the working title of the layout is The Tribute Course. The course is part of a long-term strategy that, in part, will help attract traveling golfers.
Said Castle Stuart general manager Stuart McColm:
"We have focused on working with other partners to promote the Highlands as a world-class golfing destination and this announcement that the Arnold Palmer Group wants to partner with us can only enhance that reputation. Having two world-class courses in Inverness, together with all the other great courses in the Highlands, will undoubtedly drive more people to this area and have a significant economic impact."
It certainly will not hurt.
Have you seen an interesting golf story? Tell us about it!
Image via Castle Stuart Golf Links

BeastlyBen says:
Arnold Palmer sucks at designing courses. I'm sure he will not disappoint in his latest course. I would rather die then play a Palmer. Honestly. Life is too short for bad courses.
3/22/15

bkuehn1952 says:
The four Palmer designs I have played are all decent routings. There are the occasional odd ball holes but many modern designers seem to be forced to do these for the owners. That being said, I don't know that Arnie would have been my choice for designing a links-style course in Scotland, other than using the name to lure American golfers.
3/23/15
GBOGEY says:
Don't like to criticize Arnie, but my guess from looking at the man is that he's not personally that involved anymore.
3/23/15