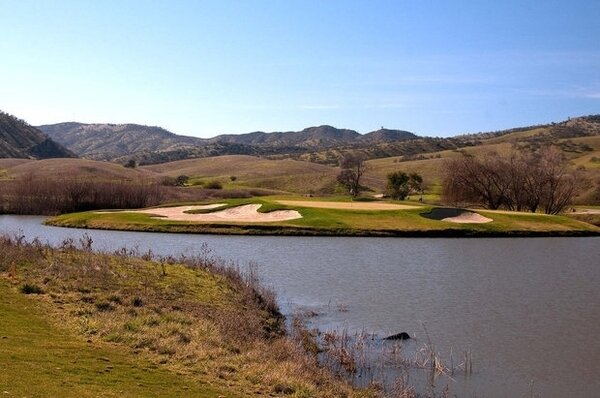 The Jack Nicklaus-designed Legends Course at Diablo Grande outside Modesto, California closed
last April because the required water and chemical inputs cost more than was reasonable.
On Wednesday, California Governor Jerry Brown
issued an order
mandating water usage cutbacks by as much as 25%.
"Today we are standing on dry grass where there should be five feet of snow. This historic drought demands unprecedented action. Therefore, I'm issuing an executive order mandating substantial water reductions across our state. As Californians, we must pull together and save water in every way possible."
The governor's action is intended to save roughly 1.5 million acre-feet of water between now and December 31, 2015.
Specifically,
Brown's order is intended to
:
Replace 50 million square feet of lawns throughout the state with drought tolerant landscaping in partnership with local governments;


Direct the creation of a temporary, statewide consumer rebate program to replace old appliances with more water and energy efficient models;


Require campuses, golf courses, cemeteries and other large landscapes to make significant cuts in water use; and


Prohibit new homes and developments from irrigating with potable water unless water-efficient drip irrigation systems are used, and ban watering of ornamental grass on public street medians.
But many golf course superintendents in California have already been taking steps to reduce their usage of potable water over the last few years. In some cases, they have done this while maintaining
Audubon Cooperative Sanctuaries
.
On the relatively simple end, superintendents have been simply cutting back on watering, while newer computer-controlled irrigation systems and moisture sensors have helped eliminate over-watering in places.
At the other end of the scale,
Diablo Grande G&CC
in Patterson, California actually closed their Jack Nicklaus-designed Legends Course almost exactly one year ago. As with many Nicklaus-designed courses, the Legends Course required tremendous amounts of water and chemical inputs to maintain its lush green appearance. Coupled with increased water costs and easier maintenance of the club's Ranch Course, the owners made the decision to shut down the Nicklaus design instead.
Near San Diego,
Escondido Country Club
and
San Luis Rey Downs Golf Resort
both closed last year. Nearby,
Carmel Highland Golf Resort
closed permanently just this past Sunday. Meanwhile,
Carmel Mountain Ranch GC
has ripped out more than 50 acres of irrigated turf.
We told you
last April about how the major redesign of the world-famous Pinehurst #2 eliminated nearly 150 acres of irrigated terrain — and brought the course close to the original Donald Ross design.
And over the last several years, the United States Golf Association has hosted a
Water Resource Center
, designed to provide course owners and superintendents with a wide variety of tools and information to help them cut back on water usage. In fact, just two weeks ago, the USGA
posted an online presentation
by Patrick Gross, their Southwest Region Green Section director. That video included several case studies on how a number of courses have already implemented restraints and conservation of water. And for more than a decade, the USGA has also helped spur research into drought-resistant and saltwater-resistant strains of turf.
Unfortunately, the fact that many California courses have already been undertaking these measures hasn't stopped some uninformed trolls from spewing their rage online:
Meanwhile, in the real world, superintendents and turf specialists have been busy publicizing their own resources:
Have you seen an interesting golf story? Tell us about it!
Image via Diablo Grande Golf & Country Club

crook1961 says:
You can have some water off us course closed yet again waterlogged,In the UK we have 2 days of sunny hot weather we call it drought
Bring on the sun from a very soggy England
4/2/15

bkuehn1952 says:
We can just build a huge pipeline from the Great Lakes to CA, NV and AZ and pump these suckers dry. We need green grass at Riviera! Priorities baby. Keep those desert dweller's golf courses pretty.
4/2/15