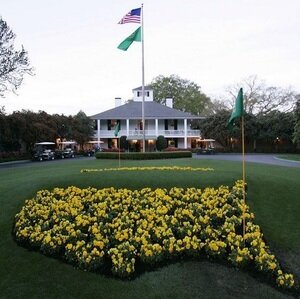 As
reported
by Darren Rovell and Bob Harig of ESPN, Augusta National Golf Club filed for two trademarks for the phrase "
A Tradition Unlike Any Other.
"
The club made the legal filings back in September of 2014. Harig and Rovell report that one of the trademark filings includes a claim that the club first used it way back in 1989. The two reporters also said that the famous phrase was first used by CBS golf anchor Jim Nantz in 1986, when Jack Nicklaus won his sixth Masters Tournament.
The club's second trademark filing is apparently intended for use on officially-licensed clothing. Several reports in years past have noted the illegal use of the tournament name and club name on clothing and souvenirs sold in the Augusta area around tournament time. Rovell and Harig note that the club's souvenir merchandise already includes one "retro T-shirt" that displays the phrase.
Use of "A Tradition Unlike Any Other" on ESPN and CBS telecasts is likely to continue, since Augusta National Golf Club owns the broadcast. The two ESPN reporters say "[t]hat means, by the transitive property, Augusta National actually owns Nantz's famous phrase anyway."
Whether you are sympathetic toward the club or not, they have, quite understandably, moved to protect other intellectual property, as well. ESPN's research shows that in the last five years, ANGC has filed trademarks for Berckmans Place, Calamity Janes, Mackenzie's Pub, and Ike's Place — all of which are the names of buildings within ANGC property. Since 2010, the club has also filed trademark claims for "Eisenhower's Tree," "Ike's Tree," "Green Jacket," "Augusta National," and "Masters Tournament."
The legendary Bobby Jones, co-founder of the club and the tournament, was also an attorney based in Atlanta. We cannot help but wonder what Mr. Jones would think about the current legal and copyright climate in society today — and whether or not he would approve or disapprove.
Have you seen an interesting golf story? Tell us about it!
Image via Twitter

bkuehn1952 says:
Also trademarked by Augusta National recently:
Pimento Cheese
Patron
#@$&%!! Fore Left
Amen
Tree
Green
Azalea (also Azelea for spelling challenged counterfeiters)
4/10/15

Torleif Sorenson says:
"There are no pins at Augusta National."
"The club is extremely desirous that you would not..."
4/10/15
ally1957 says:
Does this mean for next year our club will have to publicise as follows
WVGC Masters Competition
Not to be confused with the multimillion $ fiasco
Played with very rich world class international golfers for millions of $
That's played in the hot sun on prestine tees fairways and lightening quick greens
you win your name on a plaque
But you get a sandwich and a drink Tea/Coffee
4/13/15
shubham says:
Kids loves to play the knowledgeable game that enhance their vocabulary so just from our website play free
Free mahjongg connect
online for free which you will play without any pay and app installation.
5/1/19
Oling15 says:
Users can have daily links on trademarks and golf playing tips. The details are clearly given in the following
essay pro reviews
page. That has made for all the users and content readers.
9/13/19