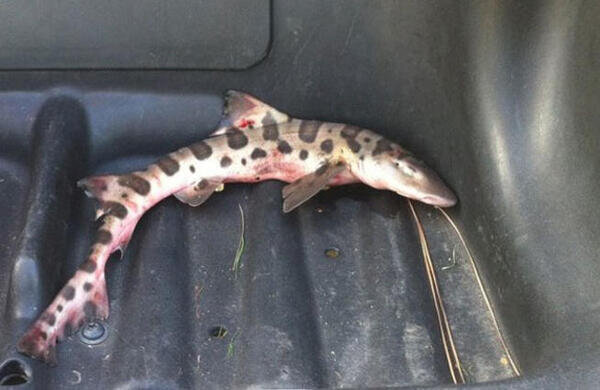 Until today, if you had told this writer that you had "seen a shark on a golf course," I immediately would have assumed that you were talking about about
Greg Norman
, or perhaps even
Joe Thornton
or
Patrick Marleau
.
Not anymore.
On Monday afternoon, a course marshal at
San Juan Hills Golf Club
found a two-foot-long leopard shark wriggling and thrashing around at the 12th tee-box. After a sober analysis, it seems logical;
leopard sharks
are native to the Pacific Ocean near San Juan Capistrano, California and tend to live in shallow water. This is well within the reach of a predatory bird looking for lunch.
Perhaps after flying the four miles inland from the ocean, the bird either got tired of carrying the shark, or changed its mind about getting
take-out seafood.
The reaction on the ground was not surprising:
"It was just wriggling around," Director of Club Operations Melissa McCormack said. "Honestly, this is the weirdest thing that's happened here."
Club employee Bryan Sitzer managed to keep the fish alive in a bucket of water and later released it back into the Pacific Ocean.
What would have happened if the bird had dropped the shark directly on a golfer's head? Just
thinking
about that creeps me out.
Instead, I would *much* rather watch THIS kind of Shark activity:
read more
Image via
NBC Los Angeles
Have you seen an interesting golf story? Tell us about it!