Tulsa television station KOTV-DT captured this aerial footage on May 6, one month before Oaks Country Club re-opened.
Oaks Country Club
, the second-oldest course in Tulsa, Oklahoma, has re-opened following a major restoration and reconstruction overseen by Atlanta-based architect
Bill Bergin
, a member of the
American Society of Golf Course Architects
. OCC was originally designed in 1921 by the legendary architect A.W. Tillinghast and still retains the original footprint today. But as course superintendent Dan Robinson said, the greens were completely reconstructed and seeded with 007 Bent, while some of the bunkers received grass faces — 48 of them now have capillary concrete construction underneath. Bergin also lengthened the par-5 3rd and 7th holes, relocated the 10th green, and deployed 52 new tee-boxes in the redesign, which began in June of 2014.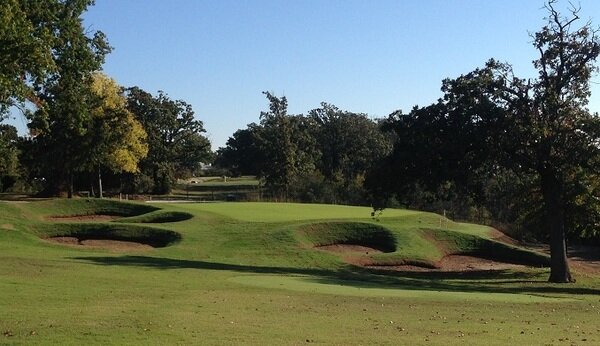 Perhaps most importantly, the course had been modified over the intervening years with Perry Maxwell-style bunkers. Bergin did more than just change them to Tillinghast's style; he sought and researched old aerial and ground-level photographs of the course, as well as leaning on his knowledge of Tillinghast's history as an architect. OCC represents Bergin's second Tilly restoration, at the least; he was involved in the redesign of Johnson City CC in Tennessee.
Another seasoned architect, Texas-based Jeffrey Brauer, says that very often, the little things separate one architect from another and that Bergin has a nice résumé of restorations.
In fact, OCC members considered six architects for this job. Club professional Rick Reed
told the Oklahoma Golf Association
that in the end, Bergin "simply had the best plan" for the course.
Bergin also designed a family-friendly, six-hole, par-3 "Acorn Course" that Reed says is unique for the region:
"There's not another one like it in Oklahoma. There are six holes and they range from 45 to 70 yards long. The intent is for people to have the opportunity to work on their putting."
The club also undertook major improvements to the clubhouse and swimming pool. During the reconstruction, several other private clubs in the Tulsa area actually opened their doors to OCC members on a temporary basis!
OCC joins three other Tulsa-area clubs that have undergone major restorations;
Southern Hills
by Bill Coore and Ben Crenshaw,
Hillcrest
by Tripp Davis, and
Tulsa CC
by "The Open Doctor," Rees Jones.
Have you seen an interesting golf story? Tell us about it!
Image via BerginGolf.com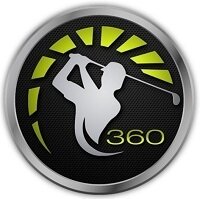 bkuehn1952 says:
They must have patient members.
6/9/15