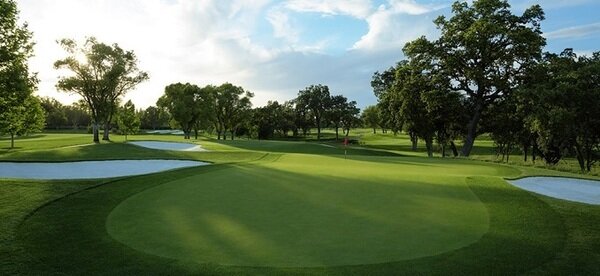 Even though Del Paso Country Club was playing under a USGA setup, Senior Open players
widely praised the layout. Some even want a regular Champions Tour event here, too.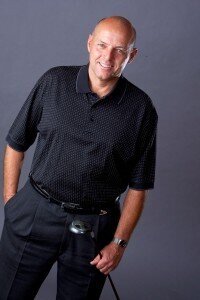 Architect Kyle Phillips
Last Thursday,
we told you
the story of the rebirth of
Del Paso Country Club
, where
Jeff Maggert won the U.S. Senior Open
on Sunday. The club's membership, especially president
Dan Spector
and general manager
Bob Kunz
auditioned several golf architects for a major redesign and lengthening of the course. In the end, they chose the "retro-traditionalist" architect
Kyle Phillips
(at right) and his firm.
After the reconstruction was complete and unveiled, Spector and other Del Paso CC members retained experienced tournament organizer Brian Flajole for a second round of petitioning the USGA to bring the U.S. Senior Open to Del Paso. In January of 2012, they finally succeeded — but only after Spector and several financial advisors produced several reports illustrating the financial viability of a Senior Open in the Sacramento area.
Among those who praised Del Paso and the Senior Open layout was well-known player Billy Andrade:
"This golf course is fantastic, great crowds. I wish the Champions Tour could come here on a yearly basis. The USGA has done a wonderful job setting the course up. Today, we had a little variety with No. 9 playing short and No. 15 playing shorter. But all in all, I'm tickled to death and very happy with the outcome."
Andrade is reportedly not the only person who wants Del Paso to host another important tournament or national championship.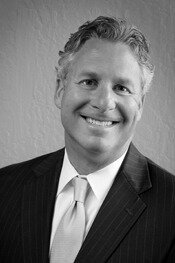 Daniel I. Spector, J.D.
Spector (at right), who was the Del Paso's tournament chair for the U.S. Senior Open,
told
the
Bee
's Ailene Voisin that he has received at least one inquiry from the PGA Tour, although he refused to elaborate further. And by no means is his Senior Open work done:
"We will do an economic impact report after the event. And by all indications, it appears that our impact will be potentially higher than what we forecast."
The
Bee
reported on Sunday that the attendance is likely to have been over 100,000. Spector's initial study projected a $16.7 million impact on the Sacramento area economy, largely in hotel room bookings, car rentals, ticket sales, and at local restaurants and clubs.
Even though that report has yet to be developed and written, Spector — the originator of the idea of a Senior Open in Sacramento — is now looking at the possibility of Del Paso holding another USGA championship:
"The USGA only holds a national championship in the same location every seven to ten years. But because the club has renewed our relationship with the USGA so successfully, it's also possible the members would have a smaller championship here in three to five years, say, a girls amateur or some sort of junior event, with the goal of hosting another Senior Open in seven to ten years."
Sacramento may be viewed as a small-market city that happens to have an NBA franchise in its third location — and almost moved to Seattle three years ago. Of course, the area hosted a popular LPGA Tour event from 1996 until 2010.
But given the attendance, a strong reception from U.S. Senior Open competitors, and what is expected to be a healthy economic boost, residents of the Sacramento region might find themselves hosting either another USGA championship soon, or possible another regular golf tournament.
And they will have Dan Spector to thank for it, amongst others.
Have you seen an interesting golf story? Tell us about it!
Images via Del Paso Country Club, Kyle Phillips Golf Course Design, Spector Weir LLP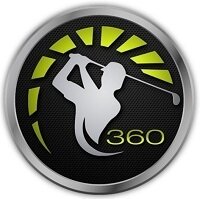 bkuehn1952 says:
Do you think they kept within the water restrictions imposed by the State government?
6/29/15

Torleif Sorenson says:
GREAT question! After some research, I found that Del Paso CC has its own private well, which they dug during the 1930s. Therefore, the club and their well are outside the enforcement bounds of the Sacramento Suburban Water District's regulations.
However, Del Paso GM Bob Kunz said they are complying with the 25% statewide cutback. They've also reduced their irrigated turf by over 35%.
6/29/15
aaravydv says:
For parents with
turn on blutooth windows 10
this is a good way to work with amazing feelings.
5/29/18
staccatobike says:
Sacramento may be viewed as a small-market city that happens to have an NBA franchise in its third location — and almost moved to Seattle three years ago. Of course, the area hosted a popular LPGA Tour event from 1996 until 2010.
driving games
7/2/18
russellrexroad1 says:
The recreation was finished and disclosed, Spector and other Del Paso individuals held experienced competition coordinator
Cheap Essay Writing Services
Brian Flajole for a second round of requesting of the Paso to bring the Del Paso CC. Andrade is allegedly by all account, not the only individual who needs Del Paso to have another critical competition or national title.
7/20/18
shravi12 says:
It is the very nice and amazing place to use and solve the issue of
sound fix windows 10
on our site and do enjoy.
8/21/18
annashetty says:
Excellent post. I was checking continuously this blog and I'm impressed! Very useful information particularly the last part :) I care for such info a lot. I was seeking this certain info for a long time. Thank you and good luck.
bullet force
10/5/18
telape says:
Running on challenging trails and natural terrains is often a lot more refreshing than running on city pavements and parks.
best trail running shoes for hiking
10/28/18
rana56r says:
MyHR Kohl's or Kohl's Connection is an online portal which is specially designed for the employees or associates working at Kohl's. It will only allow access to the Kohl's employees/associates.
myhr.kohls.com
|
kohlsmyhr
|
kohls connection
11/17/18
Jimmy1978 says:
Its a great pleasure reading your post.Its full of information I am looking for
Codycross
and
Wort Guru
2/10/19