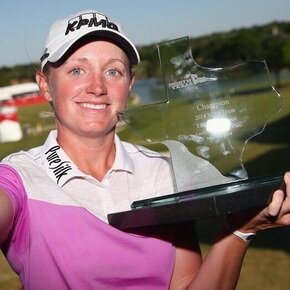 Stacy Lewis
won an LPGA tournament as an amateur, then captured eight more as a professional, including two major championships. So, it isn't as if she still needs to prove anything to the world. In her last 22 events, Lewis has two victories (including the Women's British Open), six runner-up finishes, and 19 (!) top-ten results.
Still, Lewis herself was not satisfied.
She put an exclamation point on her latest LPGA victory on Sunday afternoon at the North Texas LPGA Shootout — by shooting the lights out. Carding 71-64-69-64 = 268 (-16), Lewis demolished the rest of the field, leaving her nearest challenger, South Korea's
Meena Lee
, six shots adrift.
"It's awesome. It's relief more than anything. I've been so close the last few months, you know, maybe if I win one of those, I don't get it done here. So I think it was all meant to be. Just to be here with my family.

"I've been wanting to do this for a long time," said Lewis of her runaway win. "I kind of have these mini-goals in the back of my mind, like a bogey-free tournament or a certain number of putts, just kind of things that aren't necessarily score-related. So one of them was kind of taking a tournament and running away with it, and that's what I've wanted to do it now for a year. So to be so close the last few weeks and then to come out and shoot 64, I mean I don't even know what to say. It's what I've always wanted to do, and just to do it here at home, in front of all these fans was pretty cool."
Her victory came at the expense of the South Korean Lee, who has endured quite a dry spell since last winning on the LPGA tour in Hawaii in 2006. In each of the last two years, Lee managed just two top-ten finishes.
Michelle Wie
continued her strong play this season; she notched her sixth top-ten and third top-five result in Texas, finishing solo third at 67-73-68-67 = 275.
Christina Kim
had her best finish in a very long time, tying for 6th at (-7) 277. Her strong play did not go unnoticed, either:
Highlights
Read more
Read an interesting golf article? Tip Your Editor!
Image via Twitter
no comments posted yet.