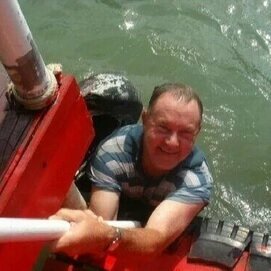 Ian MacGregor (
pictured at right during much happier times
), a Zimbabwe native and caddie for European Tour player Alistair Forsythe, collapsed from a heart attack and died on Sunday.
The 52-year-old was on the ninth hole at Clube de Golf Santa da Serra during the second (and final) round of the European Tour's
Madeira Islands Open
. The tournament had already been delayed and reduced to 36 holes by fog.
Some fans attempted to verbally slap the European Tour for not cancelling the event altogether, but Tour officials consulted with both players and caddies, including Forsythe. They held a minute of silence for MacGregor before continuing through to the end of the round. Afterward, Forsythe had this to say:
"Everybody is in shock. To see that happen to someone in front of your eyes — I don't know how or when you get over that.

"Myself and playing partners Adam (Gee) and Tano (Goya) met Tournament Officials and spoke to George O'Grady on the phone before taking the decision to play on, because we felt that was what Mac would have wanted.

"He was a guy I've known for 15 years and was very popular amongst the caddies. Obviously my thoughts go out to his family at this time. For something like this to happen so suddenly is so sad.

"He was far too young for this to happen. He was the life and soul of the caddies' lounge and a nice guy who will be sorely missed. I'm absolutely numb."
Golfers both legendary and less-prominent expressed their condolences on Twitter, including Gary Player, Pablo Larrazábal, Richie Ramsey, Paul Lawrie, Mikko Ilonen, and Gonzalo Fernández-Castaño.
In the end, English golfer Daniel Brooks
prevailed in playoff
over Scott Henry. To his credit, Brooks prefaced his joy over winning by acknowledging the sadness over the death of MacGregor:
"It's great to get a win, but it's not nice to do it in these circumstances. It's horrible what happened out there, so my condolences go out to all of his family.

"I'm over the moon to have won on The European Tour, but I played good golf for the last few days, so I'm happy with that."
Likewise, we at
SkyGolf
offer our thoughts and prayers to MacGregor's family (especially his daughter Carmen), his friends, and his colleagues.
Read more
Read an interesting golf article? Tip Your Editor!
Image via Twitter
ankei99 says:
Now your real computer manage works with some real internal setting of the
microsoft password manager
. Basically this provide you real object for the get option and with it you can understand almost every thing.
4/24/19
davidjohn0 says:
I want to know which website is best for converting my PDF documents. I am currently using
fr.altoconvertwordtopdf.com/faq
web for this purpose, and I have to say that this website does a pretty good job.
8/31/20
Caesario says:
Als bundesweit und international aktiver Investor ist die E1 Holding sehr interessiert am Ankauf leerstehender Gewerbeimmobilien auch in sanierungsbedürftigem Zustand.
www.e1-holding.com
9/5/20
Caesario says:
Sie möchten Ihre Immobilie verkaufen, möchten aber nicht, dass jemand davon erfährt? Lass uns dir helfen. Ihr Marktführer für Off-Market-Investment-Immobilien weltweit – E1 Holding. Füllen Sie das unten stehende Formular aus, um Kontakt mit uns aufzunehmen.
www.e1-holding.com
9/5/20
Ashukhan says:
HP Board Class 10th Sample Paper 2021 HP Board has published Sample Paper for Class 10th on its official website and direct link of the same has also been provided here
HP 10th Model Paper
on this page. HP Board Class 10th Sample Paper 2021 has been prepared in the same manner as question paper will be set in the HP Board Examination. Candidates under the HP Board who are in Class X can Download Model Question Paper for Class 10th for making their preparation better and in the correct direction. The students can check HP Board Class 10th Model Question Papers here.
9/16/20
SEOSEO says:
nice post, keep up with this interesting work. It really is good to know that this topic is being covered also on this web site so cheers for taking time to discuss this!
full length vr porn
12/22/20
SEOSEO says:
Your blog has piqued a lot of real interest. I can see why since you have done such a good job of making it interesting. I appreciate your efforts very much.
amazonpay agenda
12/23/20
SEOSEO says:
Thank you for the update, very nice site..
Aufstellpool
12/28/20
daniyal5555 says:
Really impressed! Everything is very open and very clear clarification of issues. It contains truly facts. Your website is very valuable. Thanks for sharing. It's late finding this act. At least, it's a thing to be familiar with that there are such events exist. I agree with your Blog and I will be back to inspect it more in the future so please keep up your act.
www.doorcompany.com/
1/22/21