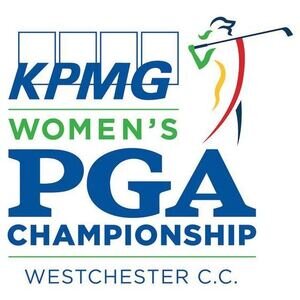 The LPGA Championship will become the KPMG Women's PGA Championship beginning next year. The LPGA and the PGA of America jointly announced the ground-breaking change this morning, one that also represents a major upgrade in venue, in television coverage, in corporate sponsorship, and in purse size.
The title sponsor will be KPMG, the major international accounting and audit firm based in Amsterdam. KPMG will also host a major conference, including women executives from the business sector, as well as in sports, society, and politics.
The first edition of the event will be played at
Westchester Country Club
, north of New York City. NBC Sports and the co-owned Golf Channel will provide television coverage of the Women's PGA, which will have a purse of $3.5 million. NBC and Golf Channel also provide the only other over-the-air network coverage of a women's major — the U.S. Women's Open.
PGA of America CEO Pete Bevacqua commented about the upgrade:
"Of anything we've done over the last 18 months, there's nothing I'm more excited about than this. We're excited because we feel we need to do something big, something important with the women's game. Our two key mandates are serving our members and growing the game. And so much of growing the game is getting more women involved."
One particularly nice touch is that the 156-player field will include the top eight finishers from the 2014
LPGA Teaching & Club Professional National Championship
, which will be played August 24-27 at
Chateau Elan Golf Club
, northeast of Atlanta in Braselton, Georgia. This will include any female PGA of America members that finish in the top eight.
Not surprisingly, LPGA Commissioner Michael Whan is especially pleased with the development. He certainly did not need a teleprompter to talk about it:
Stacy Lewis appeared on CNBC this morning with KPMG Global Chairman John Veihmeyer to talk about the event. In his comments, Mr. Veihmeyer talked about the women's leadership summit KPMG will host. But somehow, in talking about Stacy Lewis's involvement with KPMG, he failed to mention that Lewis earned a bachelor's degree in Finance and Accounting from the University of Arkansas in 2008. Given that accounting and finance are two of KPMG's chief areas of focus, this was a missed opportunity and an unusual blunder by Veihmeyer.
Not surprisingly, people in the Rochester, New York area are disappointed to lose the LPGA, which has held an event there for 38 years. But
Rochester Democrat & Chronicle
columnist Leo Roth let fly with some
particularly snide and provincial overreaction
:
"No LPGA in Rochester? It seems surreal. Like we're pulling a 1-iron from our backs. That nearly 40 years of goodwill, friendships, charity fundraising and history meant nothing to an ambitious commissioner with an inflated view of his tour and a new generation of players who've grown up feeling entitled to more."
The more level-headed Whan addressed the inevitable question during the press conference in New York City:
"Do I have a desire, do 190 LPGA players have a desire, to play Rochester on a regular basis? Of course we do. This was never about having the choice of: Do we stay or do we go? We knew we were going to have to transition, that was a financial reality.

"I also think it's a reality, even if it doesn't happen overnight, that we tend to be committed to getting back to the markets that have been good to us. That doesn't mean we have gotten back to all of them. We wish we were back in Corning [New York] and Springfield [Illinois]. But a lot of those markets that thought we weren't coming back to them were wrong. I feel 100 percent committed to finding a way to get back to Rochester. It will be in a different name and different tournament."
Indeed, the LPGA is slowly regaining some of the tournaments, press coverage, and television coverage that evaporated during the tenuous tenure of former commissioner Carolyn Bivens, who resigned in 2009 under pressure from LPGA players. And while the continuing recession has stymied some of the LPGA's efforts, Commissioner Whan and the players have pretty much been on the same page since he joined the LPGA in October of 2009.
The LPGA championship was first played in 1955, just five years after the LPGA was founded. The late Beverly Hanson, who passed away only one month ago, won the inaugural championship at Orchard Ridge Country Club in Fort Wayne, Indiana. The final edition of the LPGA Championship will be played August 14-17 at
Monroe Golf Club
in Pittsford, New York.
Read more
Press release
Read an interesting golf story? Tip Your Editor!
Image via LPGA
davidjohn0 says:
When it comes to uploading documents and files online, I always choose
www.signnow.com/ask/how-do-i-send-a-contract-via
. They are literally one of the safest platforms to ever work with. They ensure you the best security ever!
10/31/20
mehreensiddique says:
Very useful post. This is my first time i visit here. I found so many interesting stuff in your blog especially its discussion. Really its great article. Keep it up.
detective en asturias
11/19/20
mehreensiddique says:
Thanks for the blog loaded with so many information. Stopping by your blog helped me to get what I was looking for.
Babbling Brook Sounds
12/7/20
ahmedraza1001 says:
You should mainly superior together with well-performing material, which means that see it:
ดูบาส nba
8/26/21