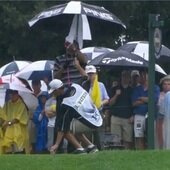 Two-time Masters champion Bubba Watson did not have a very fun time at the PGA Championship — and it showed.
He shot 70-72-73-72=287 to finish at +3, tied for 65th. He was a non-factor, except in turning the air blue and having tantrums. At point one, he was even caught having caddie Ted Scott tee up a ball for him.
For a few years now, golf fans have griped about Watson's on-course attitude, especially toward caddie Ted Scott.
But
this scathing column
by veteran
Golf Digest
contributor Dave Kindred proved the old adage that sunlight is the best disinfectant.
Apparently, word got back to Bubba:
Watson also noted one nice gesture to a PGA Championship attendee:
"I've got to get a new umbrella this week. Because it started raining right when we putted out [on Sunday]. I was walking across the bridge and a guy goes, 'Bubba, can I have your umbrella?' And I was like, you know what, that's a good question. So I just gave it to him. I was like, 'I'm done. You need it more than I do.'"
Read more
Read an interesting golf article? Tip Your Editor!
no comments posted yet.